#onlinetogether #impreunaonline
In these times of lockdown due to the COVID-19 pandemic, just like in other countries, face-to-face educational functions and activities are being moved online, using apps, platforms and various tools for distance education.
Many of us are struggling with the adjustment to working and teaching online, especially those who have always taught in a traditional classroom and are now being asked to rapidly regroup and prepare for a longer period of  educational "social distancing" .
To address these questions and many others, we are initiating through the eLearning Center, a series of practical webinars on online education and experience, for everyone during this period.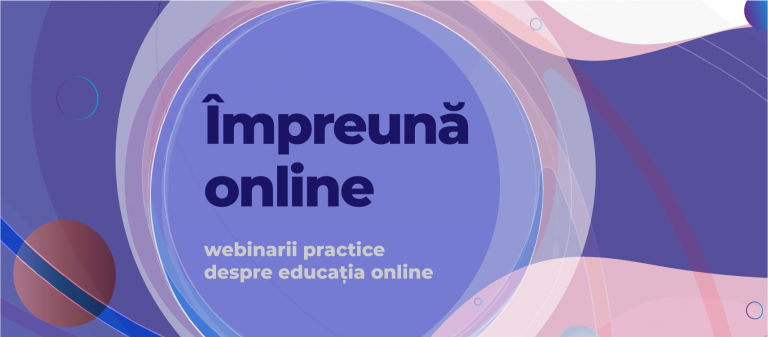 We aim to get out of the individualistic paradigm and to collaborate as much as possible, between us, those in the educational environment in Romania, to find out ideas, experiences and solutions that each of us have tried to apply together.
#onlinetogether #impreunaonline
These webinars are dedicated to the current uncertain period, and are based on experienced professionals in the field of open learning, online and e-learning.
Online Together webinars are organized in collaboration with IEEE Romania, the EDEN Association and the Politehnica University of Timișoara.

The webinars aim to be as practical as possible, to focus on the daily challenges that all of us must face and be in the spirit of open education and free access to knowledge. They are dedicated in particular to the higher education environment, to teachers and students, but do not exclude the involvement of those in secondary education.
Open Badge - Online Together
Participants received an Open Badge - Online Together 
Click on the picture below to see the list of issued badges for all Online Together workshops :
These weekly one-hour webinar sessions take place on Wednesdays or Thursdays from 16:00 to 17:00, starting on April 15, 2020.
See a tutorial on accessing the digital certificate below:
See how to distribute the digital certificate in the video tutorial below:
Each webinar will consist of a short presentation with 1-3 presenters and a moderator, who will address the topic of the webinar, which will then be followed by a session of questions and answers, in which you are encouraged to participate, share your views and experiences and address those most pressing questions.
Couldn't attend the webinar you wanted? Watch NOW the live stream of Online Together events, on the following playlist:
❗ To watch all the videos in the playlist, click on the hamburger button, at the top right corner, just above 1/6 of the video below:
Together online - previous webinars