#shapingtogether #developingtogether
Life and education in pandemic continue and after almost two years we have gained experience, provided numerous research and analysis, we reflected on the steps taken in 30 webinars Online Together.
We know what we could have done better, we have ideas on how to do better, how to set education for the digital age, what we would like to learn from science and technology and now it is time to act. 
In this new series of webinars Together, our aim is to provide information, ideas, analyzes, challenge you to discussions and encourage you to build a future on how to make the necessary changes, move further and shape education and science for today and tomorrow.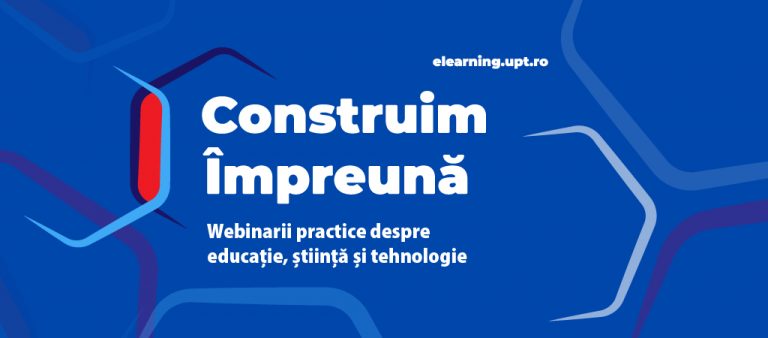 These webinars are dedicated to changing and reflecting on the current state of education in post-pandemic education, on fully realizing the potential of new digital education models discovered and experienced recently, and are based on experienced professionals in open, online and digital learning.
#shapingtogether #developingtogether
Together we will respond to the challenges of building models and structures in education and science in collaboration with IEEE Romania, EDEN Europe Association, Romanian Alliance of Technical Universities, and the Politehnica University of Timisoara.

The aim of these webinars is to to support the educational community and scientific from Romania and by provide practice-oriented ideas, combining education and technology, examples and resources, information about innovation in technology and science. 
Open Badge - Shaping Together
Participants will receive an Open Badge - Shaping Together.
These weekly sessions take place on Wednesdays from 18:00. starting from February 9, 2022.
Click on the picture below to see list of issued badges for all workshops Shaping Together:
See a tutorial on accessing the digital certificate below:
See how to distribute the digital certificate in the video tutorial below:
Each webinar consists of a short presentation with several presenters and a moderator, addressing the topic of the webinar, followed by a question and answer session, which you are encouraged to attend, share your views and experiences, and address the most pressing questions.
Couldn't attend the webinar you wanted? Watch NOW the live stream of Online Together events, on the following playlist:
❗ To watch all the videos in the playlist, click on the hamburger button, at the top right corner, just above 1/6 of the video below:
Together online - previous webinars