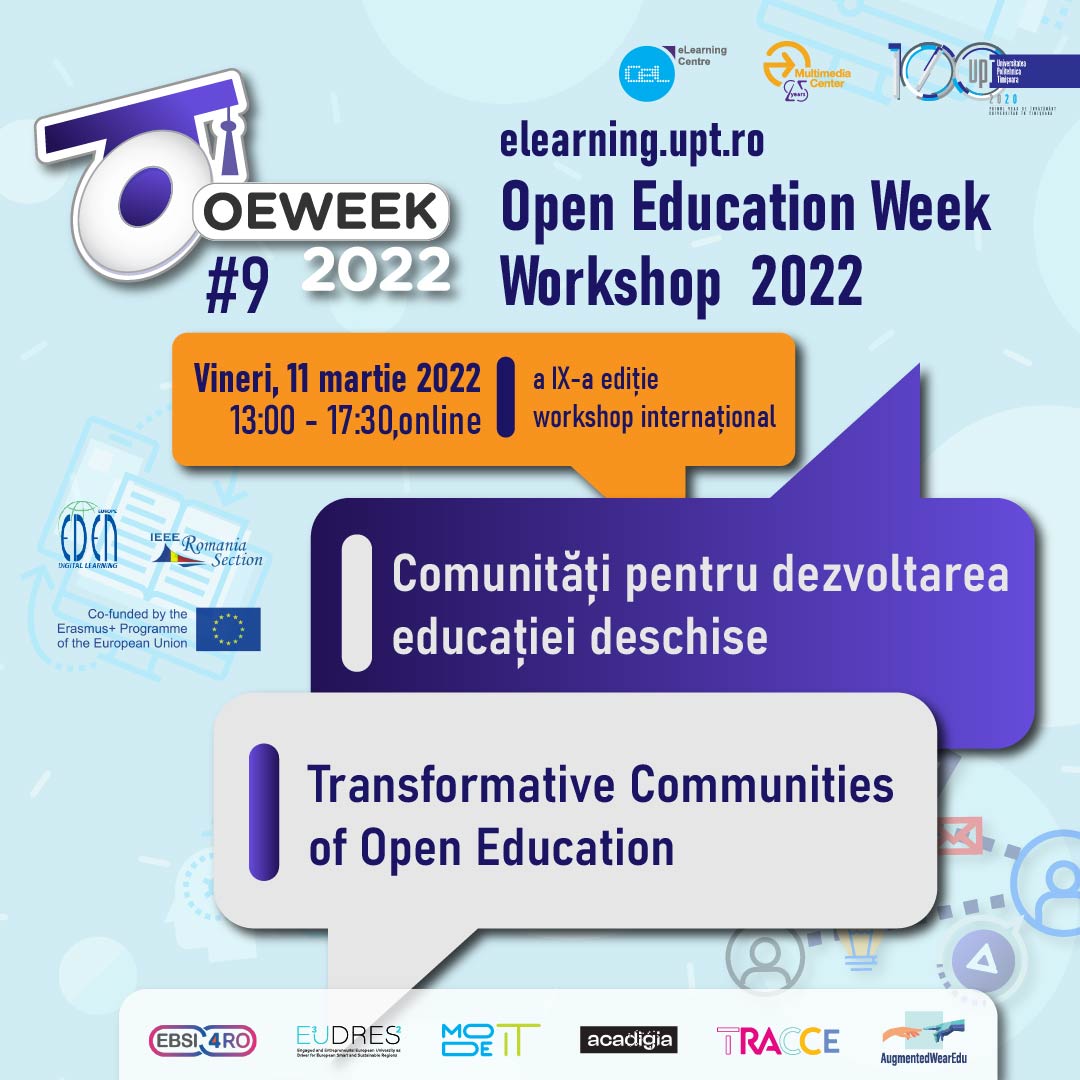 International Communities Workshop for the Development of Open Education
The ninth edition of the OEW International Workshop was organized by the Polytechnic University of Timișoara, through the ID / IFR and e-Learning Center with the support of EDEN Europe and IEEE Romania, during the Open Education Week 2022 and is also included in the new webinar series - We build together.

#openeducationwk #OEWTimisoara
Friday, March 11, 2022, 1:00 - 5:30 p.m. | ONLINE
Friday, March 11, occurred online a interactive session, addressed to both teachers and students, but also to actors in the field of culture and creative fields, IT trainers, or human resources departments, during the ninth edition of the workshop Communities for the development of open education - part of the global event Open Education Week 2022.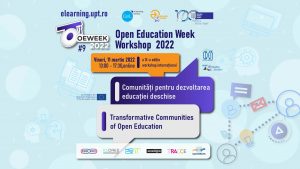 27 international speakers demonstrated in an interactive session - through practical examples, how digital and open education can stimulate innovation and the impact that transformational communities can have on education, science and technology.
Several initiatives of European universities and the digital education platform were presented, as well as their educational and innovation plans. The impact of European universities on innovation and education is undoubtedly important and also acts as a vector for regional innovation ecosystems.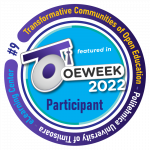 The event took place online and was broadcast live, simultaneously on the Zoom, Facebook and YouTube platforms. Participation was free, presentations were held in both Romanian and English and participants received OEW - UPT Open Badges (Open digital certificates). During this year's edition, the Romanian participants had the option to listen to the presentations in English dubbed in Romanian with the help of a live interpreter, from the team of the ID / IFR and e-Learning Center UPT.
2022 brought a very diverse edition of speakers, with a very good gender balance, with young researchers full of enthusiasm, but also teachers with years of experience behind them, with opinions of students but also the perspective of decision makers, with guests from education and innovation in technology, all of which creates a transformative community of open digital education.
This year's edition focused in particular on creating a community based on the same values, on supporting them in the development of open education, but also on the role of European Universities, especially in the context of projects supported by the partnership E3UDRES2 and EINS. digital skills, micro-accreditation and micro-credit, MOOC-based courses, virtual and augmented reality, blockchain, entrepreneurship and university innovation, and included case studies on the impact of open education on education, as well as on initiatives and projects that can shape the education of the future. 
The presentations were given by speakers from countries such as Romania, Germany, Spain, Portugal, Australia, Lithuania, Norway, USA, Turkey, Ireland and Belgium.
Over 500 participants have been online for more than six hours, in an interactive session, with many questions and curiosities addressed to the presenters and hundreds of messages and thoughts sent to the organizers.
"The activities you do are extraordinary! Thanks and congratulations for everything you do! "
"The information I receive helps me. I have badges from you. Lifelong learning! "
"Thank you for this quality time! Excellent exposure. Congratulations!"
"Congratulations! An interesting and beneficial experience! Thanks for the opportunity! "
"Very interesting and educational, very important information for all types of education and other specific fields! Thank you very much! Congratulations to all! "
"Congratulations on the way you organized this marathon!" "Everything is superlative!"
"Very interesting and useful at all levels of education."
These were just a few of the hundreds of messages sent by the workshop participants.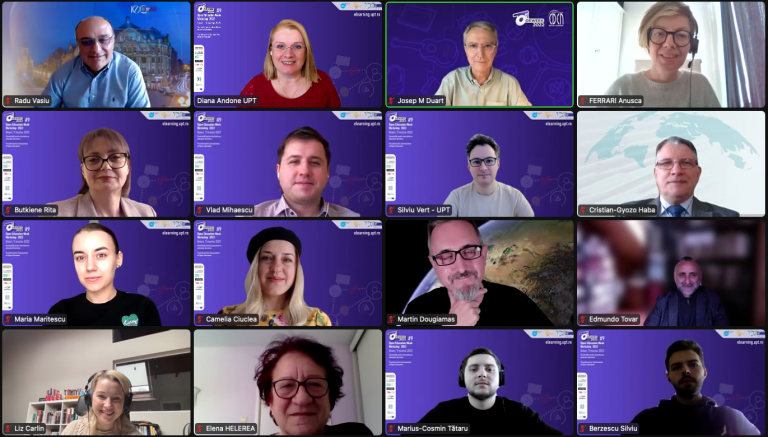 EDEN stands up Open Education Week for the 6th year, organizing between 7-11 March 2022 - EDEN OEW, daily, through a series of 6 webinars, with the aim of highlighting what are the relevant educational opportunities in The Open Education Movement. 
Watch the recording of each presentation below: