Communication and Public Relations - in collaboration with the Faculty of Communication Sciences (bachelor's degree - 3 years of study) - distance learning
The communication sciences occupy a distinct place in the area of socio-human disciplines, offering solutions for the efficient realization of the connections with the interpersonal, professional, societal environment. In contemporary society, communication has become one of the key notions, along with concepts such as identity, image, relationship, mediation or meaning. A visible consequence of recognizing the importance of communication is the emergence of the profession of communicator (public relations specialist, PR manager or image advisor).
Graduates will have skills and abilities in:
The mission of the program is to train graduates able to work as specialists in communication and public relations for activities specific to the occupation, carried out in institutions, companies, political parties and organizations, non-governmental organizations, etc.
Communication and Public Relations Fees
By the Decision of the Board of Administration of UPT No. 49/02022, are established as tuition fees in UPT, for the academic year 2022/2023:
2,550 lei / year

payable in 2 installments (for COMMUNICATION and PUBLIC RELATIONS, for all years of study).
Based on GD no. 146/2002 on the formation and use of funds carried out by the state treasury and OMF no. 12352003 for the approval of the methodological norms for the application of GD no. 146 / 31.10.2002, the following are provided:
payment of tuition fees can be made by Bank transfer.
after making the payment by bank transfer, the payer is obliged to send to the ID / IFR and eLearning Center by email to the address contact@elearning.upt.ro scanned or photographed image of the payment order, so that the name of the payer and the detailed object of the payment can be clearly identified.
Bank transfer
Beneficiary: Polytechnic University of Timisoara
Address: Victoriei Square, no. 2, Timisoara
Fiscal code 4269282
IBAN code: RO20 BACX 0000 0030 1782 5060
Mentions: student name, year of study, specialization
Angela Tripșa
FSC Secretary
Contact person - Faculty of Communication Sciences
0256 404011
angela.tripsa@upt.ro
Lect. Dr. Mugurel Gabriel Dragomir
CRP academic manager
mugur.dragomir@upt.ro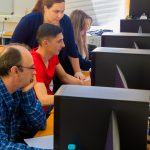 Specialization Informatics, in collaboration with the Faculty of Automatics and Computers (graduates in informatics - 3 ...
Read more