Machine Building Technology - in collaboration with the Faculty of Mechanics (bachelor's degree - engineers - 4 years of study) - part-time education
The specialization of Machine Building Technology (TCM) defines a profession adapted to the present and future economic evolution, connected to the European and world practice, in which the mechanical engineer, besides the basic technical training of Industrial Engineering, is trained operational skills for the productive sector. general but also for the sphere of services and product promotion.
The professional profile of the TCM engineer offers our graduates diversified possibilities to integrate on the labor market in industrial sectors or to provide services such as:
The study programs are accredited* by ARACIS and confer the same degree as in the case of full-time studies, the distance/part-time bachelor's degree (in accordance with HG607 / 2014).
\(CRP provisional authorization pending accreditation)*
Taxes Construction Technology
By the Decision of the Board of Administration of UPT No. 49/02022, are established as tuition fees in UPT, for the academic year 2022/2023:
3,600 lei / year

payable in 2 installments (for

MACHINE CONSTRUCTION TECHNOLOGY

, for all years of study).
Based on GD no. 146/2002 on the formation and use of funds carried out by the state treasury and OMF no. 12352003 for the approval of the methodological norms for the application of GD no. 146 / 31.10.2002, the following are provided:
payment of tuition fees can be made by Bank transfer.
after making the payment by bank transfer, the payer is obliged to send to the ID / IFR and eLearning Center by email to the address contact@elearning.upt.ro scanned or photographed image of the payment order, so that the name of the payer and the detailed object of the payment can be clearly identified.
Bank transfer
Beneficiary: Polytechnic University of Timisoara
Address: Victoriei Square, no. 2, Timisoara
Fiscal code 4269282
IBAN code: RO20 BACX 0000 0030 1782 5060
Mentions: student name, year of study, specialization
Maria HERBEIU
MECHANICS Secretary
Contact person - Faculty of Mechanics
0256 403535
maria.herbeiu@upt.ro
Dr. Adrian Dume
TCM academic manager
adrian.dume@upt.ro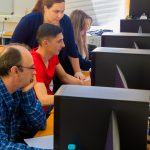 Specialization Informatics, in collaboration with the Faculty of Automatics and Computers (graduates in informatics - 3 ...
Read more