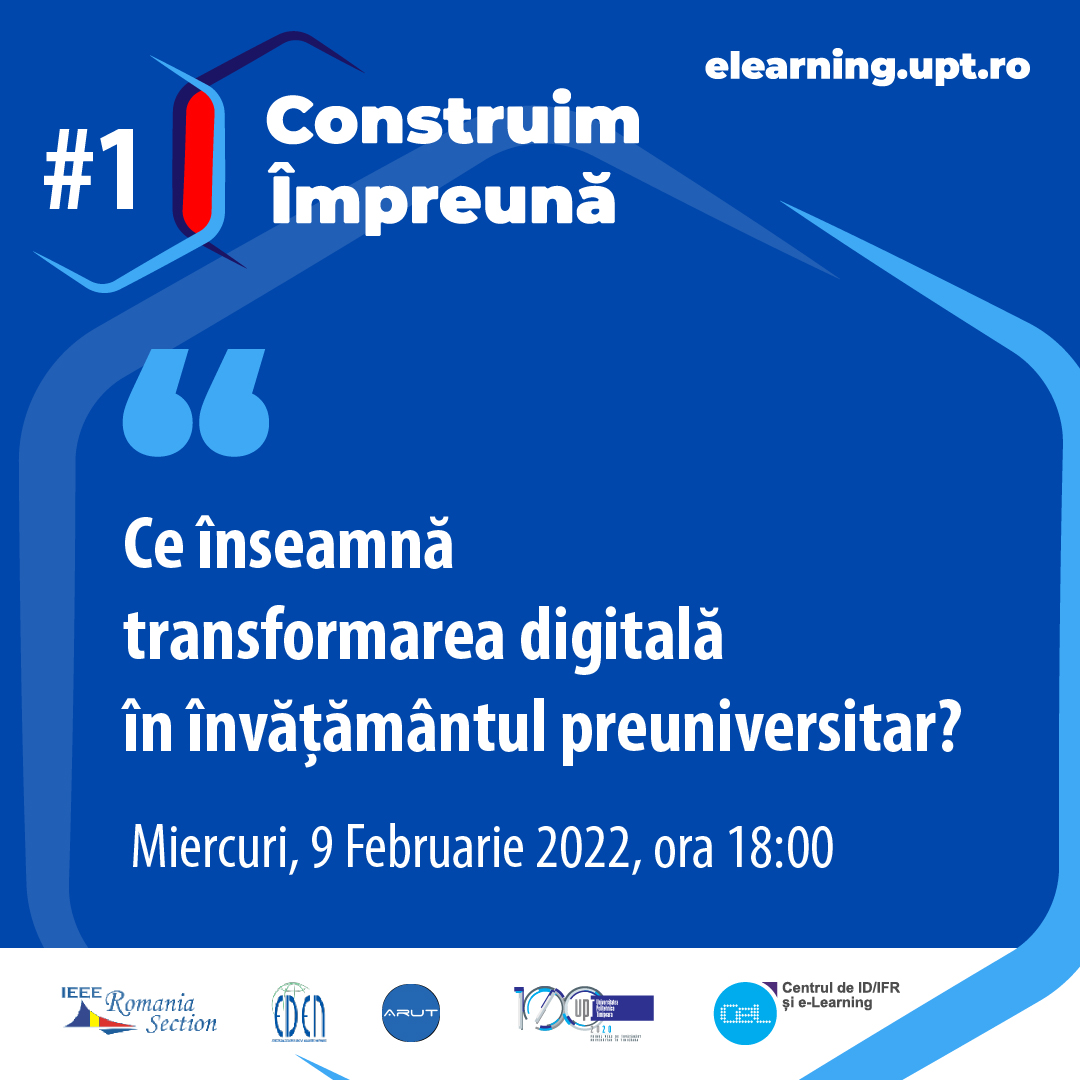 Shaping Together webinar: What does digital transformation mean in secondary education?
#shapingtogether #developingtogether
Life and education in pandemic continue and after almost two years we have gained experience, provided numerous research and analysis, we reflected on the steps taken in 30 webinars Online Together. We know what we could have done better, we have ideas on how to do better, how to set education for the digital age, what we would like to learn from science and technology and now it is time to act. 
In this new series of webinars Together, our goal is to provide information, ideas, analysis, to challenge you to discussions and to stimulate you to build a future in how to make those necessary changes, to move forward and shape education and science for today and tomorrow.
Wednesday, FEBRUARY 9, 2022, 6:00 p.m.

What does digital transformation mean in pre-university education?

Conf.univ.dr.ing. Florin Dragan - Rector of the Polytechnic University of Timișoara
Prof. Marin Popescu - General school inspector, Timiș County School Inspectorate
Prof. Cosmin Hogea - Deputy General School Inspector, Timiș County School Inspectorate
Prof. Patricia Pisano - Director of the Timiș Teaching Staff House
Moderator:
Dr. Eng. Diana Andone - Director of the UPT e-Learning Center

The first webinar in this series  brought to the fore the need for the development of digital skills, the use of digital tools in teaching and pre-university teaching, according to Strategy on the digitalization of education in Romania, analyzing Education and Training Monitor 2021.
the over 600 participants on the platform Zoom, along with others a few hundred of people present on Facebook and YouTube expressed interest in  the current situation in education, in the post-pandemic times, on recovery entirely a the potential of new models of digital education discovered and experienced recently and compared to solving different problems and challenges, encountered in recent years in pre-university education and beyond.
Experts within Timiș County School Inspectorate, Timișoara Polytechnic University, Teaching Staff House they brought in front of the hundreds of participants present applied ideas and solutions about hybrid education and alternative online and physical teaching, experiences and practical solutions for digital education, but especially solutions for achieving educational transformation in the educational environment post-pandemic pre-university.
The questions addressed in this webinar were: 
How well did we do and what lessons did we learn?
How are those lessons reflected in future planning?
What should remain and what needs to be changed?
Why did we need a pandemic as a catalyst for the digital transformation of pre-university education?
followed by many other questions, opinions and ideas to solve all the challenges brought in education lately.
The final remarks by the presenters focused on the following: courage, collaboration, mentality, exigency and perseverance, in order to find the right solutions to have a quality education, to evolve and to set education to the standards of the innovative, digital age .
The session continued with the presentation of a learning tools – UniCampus, an initiative of the ID / IFR and eLearning Center (CEL) of the Polytechnic University of Timișoara (UPT), in order to develop the first MOOC (Massive Open Online Courses) university in Romania, as a virtual online platform for free, open, free courses for everyone
Open Badge - Shaping Together
Participation was free and participants received Open Badges.
Together we will respond to the challenges of building models and structures in education and science in collaboration with IEEE Romania, EDEN Europe Association, Romanian Alliance of Technical Universities and Politehnica University of Timisoara.
Watch the webinar recording below: