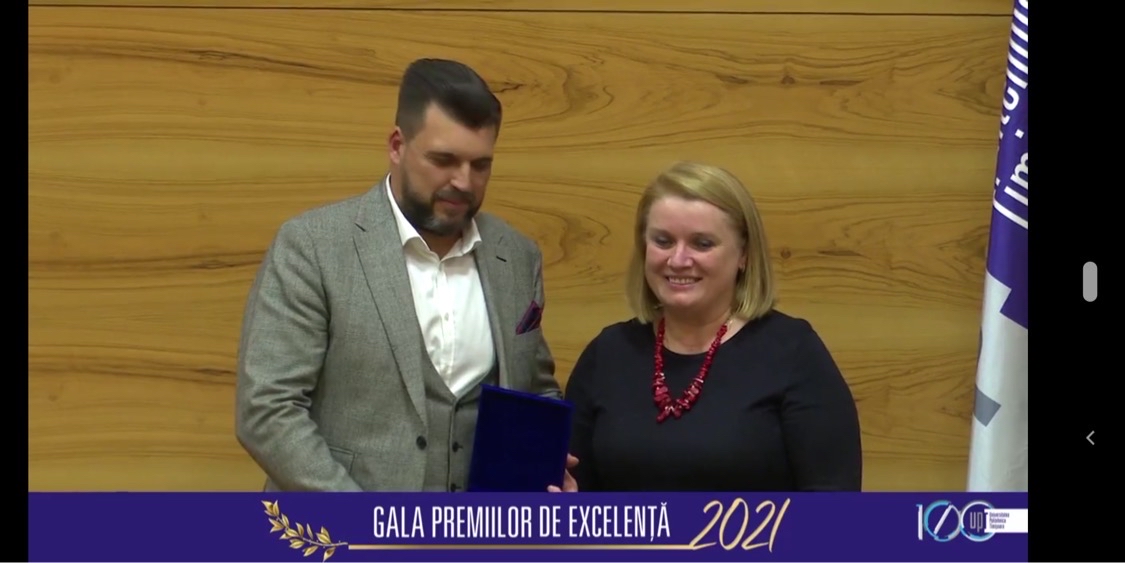 Award for Excellence in Culture for the UPT partner, Banat National Museum
Banat National Museum, the partner of the UPT e-Learning Center in the implementation of the Spotlight Heritage Timișoara project received
Award for Excellence in Culture , Excellence Awards Gala 2021 at the Polytechnic University of Timișoara, for the active support of the polytechnic university values and of the Timișoara patrimony. The award was presented to the director of MNaB, Claudiu Ilaș, by the director of CeL, Dr. Eng. Diana Andone
On July 25, 1872, the first scientific society in Banat was established, the Society of History and Archeology, which laid the foundations, 4 years later, for the Banat Museum. Today, the "Traian Vuia" Museum in the locality of the same name and the one dedicated to the master Ștefan Popa Popas are asserted as a museum of national importance through the departments of Archeology, History, Natural Sciences and the departments of Visual Arts and Museum Pedagogy. It organizes over 15 annual exhibitions, dedicated to regional culture and heritage, many interdisciplinary, some dedicated to polytechnic university values.
Annually, from 2019, the Project Heritage under the spotlight Timisoara is realized by the Polytechnic University of Timișoara in partnership with the National Museum of Banat. Through it, the stories of history and culture are digitally transposed, giving us the chance to walk through the historic districts of Timisoara, through the history of communities, enriching our senses, celebrating everyday life.
Since 2016, the university's significant technical innovation - the first MECIPT electronic computing machine - has returned, along with over 100 other technical equipment, to the UPT Technical Museum, after they have been preserved and cared for by MNAB.
Courageously, the museum brought the sport on display in 2021, celebrating the Centennial Polytechnic, through "A romanticized history of one of the most beautiful stories in Romanian football."