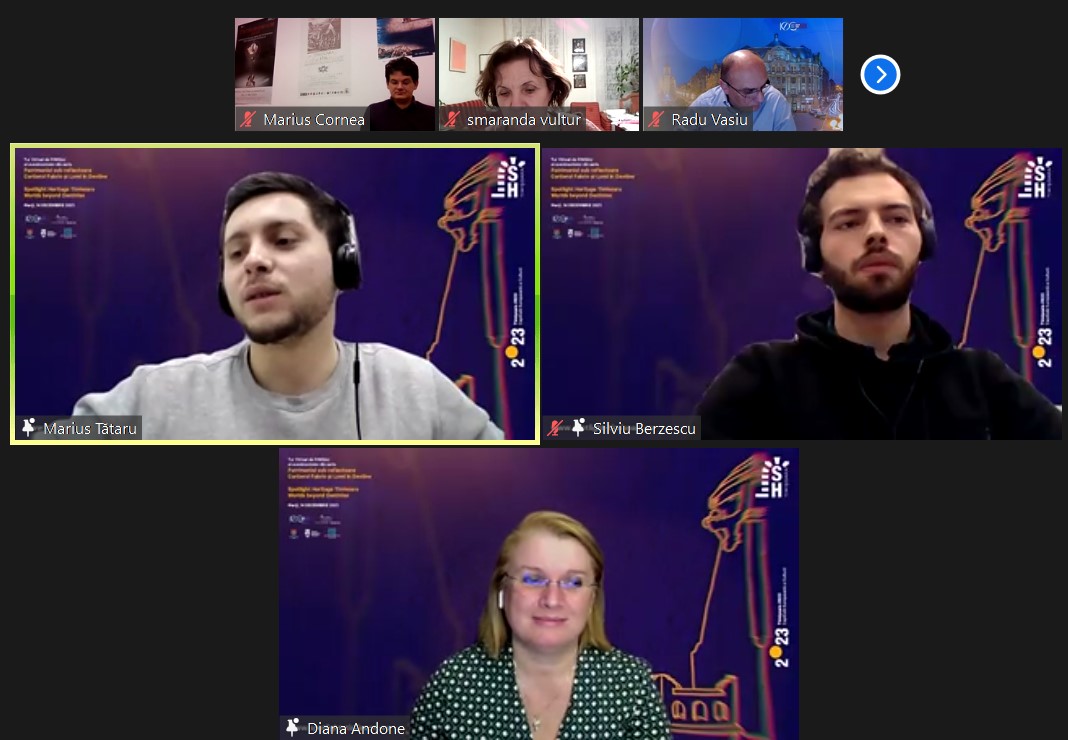 ISHSC 2021 presented its winners:
Interactive virtual tours and AR applications developed by international students
The winning applications of the International Spotlight Heritage Student Contest 2021 have been submitted online, Tuesday, December 14th, in the presence of over 100 students, within Virtual Tour Finishing Heritage Under the Spotlight 2021: Fabric Neighborhood - Worlds in Destinies
The initiative belongs to the Polytechnic University of Timișoara and was organized within the project "Spotlight Heritage Timișoara 2021 - Fabric - Lumi dincolo de Destine", funded in 2021 by the Timișoara Project Center, and the competition partners were Aalborg Universitet from Denmark and Università di Modena and Reggio Emilia in Italy.
During the competition, the students worked in international teams, consisting of a representative of the students from each partner university, and together they created a digital story in virtual reality with the resources of the Spotlight Heritage Timișoara project, using artifacts, text and multimedia stories. and at the same time integrating them into a virtual reality experience. 
The winners of the competition were the two teams made up of students Christian Bodskov and 
Oliver Engermann - Aalborg University, Denmark, Ilie-Silviu Berzescu and Marius-Cosmin Tătaru - Polytechnic University of Timișoara, Doresita Marino and Luca Contardi - University of Modena and Reggio Emilia, Italy.
The stories of the Timișoara churches, explored in a virtual space
The winning applications contain a virtual tour of the Roman Catholic Church "The Sacred Heart of Jesus" in Balcescu Square (historic Elisabeth neighborhood) and the Millennium Roman Catholic Church in Trajan Square (Historic Fabric neighborhood) in a 3D virtual space with 360 images, old and new pictures, audio elements, as well as information about the history and architecture of the buildings, the art objects inside them (paintings, stained glass windows, organs inside the churches), but also about the historical characters who left their mark in the construction, design and development of Timisoara buildings. All of these elements are integrated into an interactive and unique virtual reality application through which the user can explore churches through digital storytelling artifacts in virtual reality.
The applications can be downloaded and used on the Oculus Quest 2 virtual reality glasses, but also on the Cospaces Edu web and mobile platform.
The resources of Spotlight Heritage Timisoara used by students in developing applications are available in Romanian and English on the website https://spotlight-timisoara.eu/en/ and in the mobile applications for Android and iOS that you can find in the app stores called "Spotlight Timisoara".
The projects were evaluated by a jury composed of Dr. Diana Andone and Dr. Silviu Vert, Polytechnic University of Timișoara, and Marius Cornea, National Museum of Banat, being awarded prizes totaling 3600 euros. Also, the winners will be nominated for the EU Medea 2022 Awards, the student section, but also for the Interactive Digital Media Student Contest 2022.