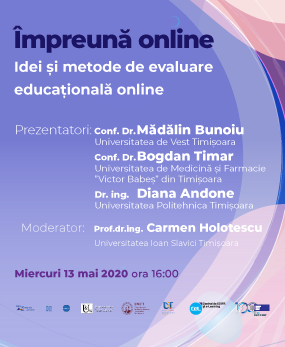 Webinar #onlinetogether - Ideas and methods for online educational evaluation
#onlinetogether #impreunaonline #covid19 #webinar
One of the urgent questions facing the world of education today is: How do I manage assessment in online learning environments?
In this #onlinetogether webinar experts in the field presented ideas, methods and practical examples related to online educational evaluation.
Main message: Technology will not replace great teachers but technology in the hands of great teachers can be TRANSFORMATIONAL !
They encouraged the participants to use digital tools during this period.
Wednesday, May 13, 2020, 4:00 p.m.

Speakers: Conf.dr. Madalin Bunoiu, West University of Timișoara
Conf.dr. Bogdan Timar, Victor Babeş University of Medicine and Pharmacy, Timişoara and
Dr.eng. Diana Andone, Politehnica University of Timișoara
Moderator: Prof.dr.eng. Carmen Holotescu, "Ioan Slavici" University of Timișoara
The presentation was dynamic, with each presenter actively answering the problems and questions raised by the over 300 participants.
Conf.dr. Madalin Bunoiu, Conf.dr. Bogdan Timar and Dr.eng. Diana Andone  talked from personal experience, each of them presenting in a unique way the various examination methods, online courses and platforms used, emphasizing the students' conduct regarding the examination during this period. 
Some of the questions they answered:
How do we ensure academic integrity?
What measures can we put into practice in order to make sure that the learning process takes place and to assess it more efficiently?
How do we use e-portfolio in developing and presenting the competencies and abilities of pupils / students?
What does "open book" exams mean? 
How can online group exams be organized?
These webinars are dedicated to the current uncertain period, and are based on experienced professionals in the field of open learning, online and e-learning.

Online Together webinars are organized in collaboration with IEEE Romania, the EDEN Association and the Politehnica University of Timișoara.
Open Badge - Online Together
Participants received an Open Badge - Online Together
The presentations are now available online: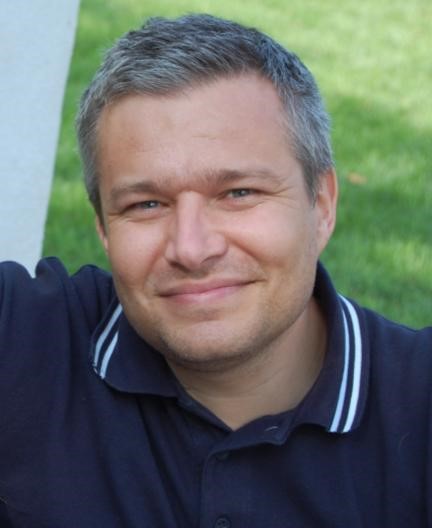 Assoc. Prof. Dr. Madalin Bunoiu
Mădălin Bunoiu is the Vice-Rector responsible for the academic strategy at the West University of Timișoara and PhD in the Faculty of Physics, having as areas of research obtaining and characterizing materials with optical, electrical and magnetic properties and educational physics respectively. Mădălin Bunoiu is a member of important national bodies in the field of education, such as the Romanian Agency for Quality Assurance in Higher Education (ARACIS) or the Consultative College for Research, Development and Innovation (CCCDI).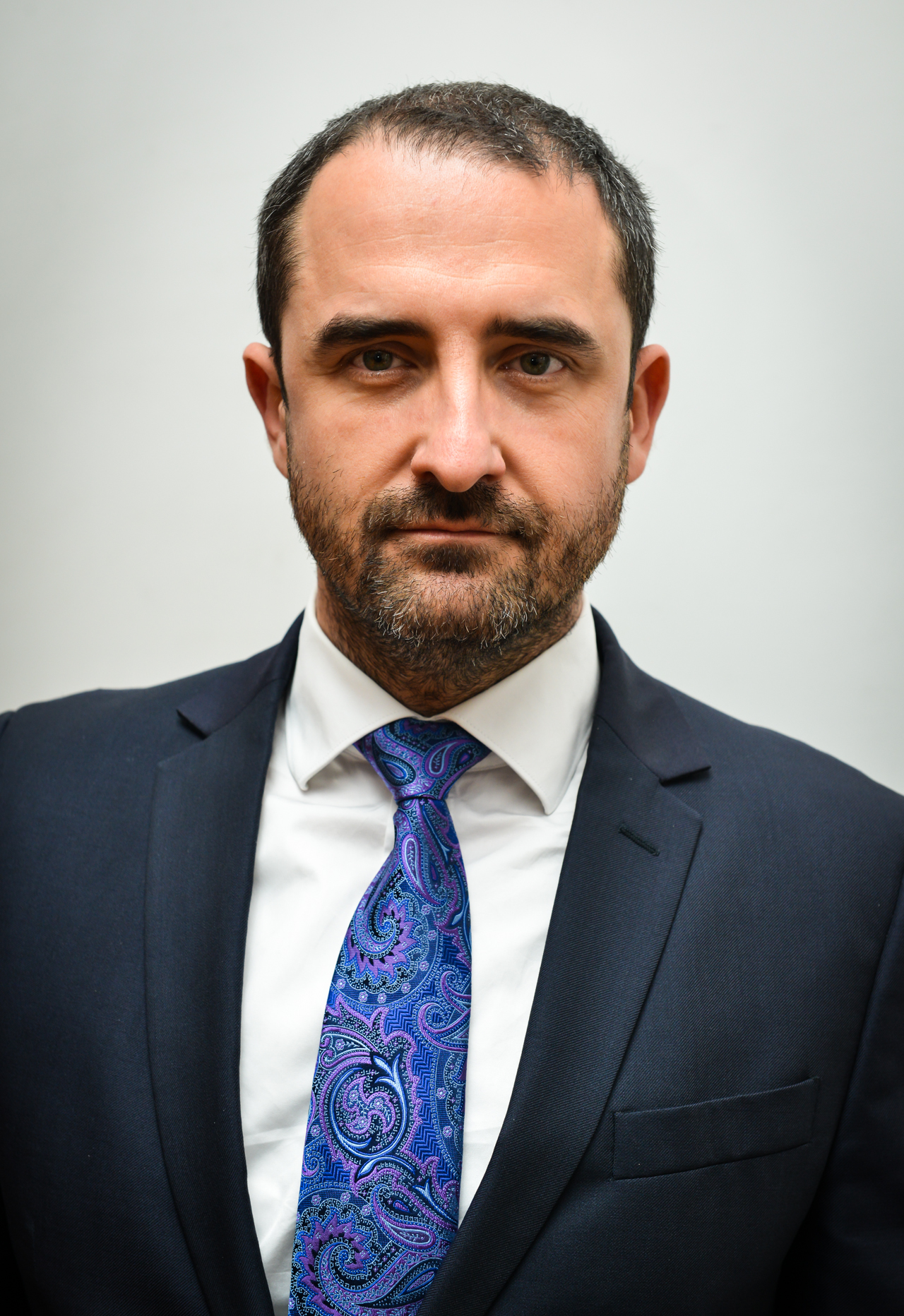 Conf.dr. Bogdan Timar
Bogdan Timar is the dean of the Faculty of Medicine at "Victor Babes" University of Medicine and Pharmacy and medical doctor at the "Pius Brinzeu" Emergency Hospital from Timisoara, specialized in diabetes, metabolic diseases and internal medicine. He is involved in developing medical education programmes at a national level being the promoter and lead organizer of the Diabetes Science School, a diabetes-education nation-wide programme aiming to improve the skills related to research and critical appraisal of the evidence-based medicine of the doctors working in diabetes-related specialities. Bogdan Timar leads a team of researchers focused on developing metrics used in the evaluation of subjective outcomes related to diabetes chronic complications and on analyzing time-dependent predictive values of the glycemias in patients with Type 1 Diabetes.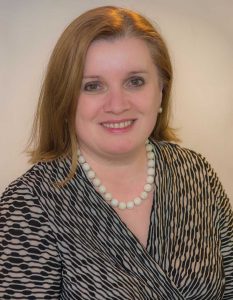 Dr. Diana Andone
Dr. Diana Andone (@ diando70) is the director of the eLearning Center of Politehnica University of Timișoara, with responsibilities in the planning and implementation of distance learning and the integration of the use of online educational technologies for all forms of education, through the UPT Virtual Campus - CVUPT . Dr. Andone is a lecturer in multimedia and web technologies, with an intense research activity at international level through various projects with European funding and multiple publications (with over 17 books, 80 scientific papers, 11 Best paper Awards). Passionate about the use of technologies in everyday life, Diana promotes the use of open resources OER and MOOCs, developing UniCampus - online courses in Romania. Dr. Andone is strongly involved in the activity of the scientific community through various management functions of international associations EDEN (Vice-president), IEEE Romania, IEEE CS TCLT, but also by supporting the activity of the regional community of start-up and innovation, cultural and social responsibility.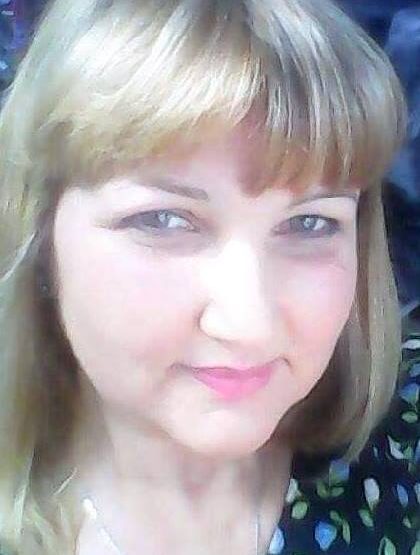 Prof.dr.eng. Carmen Holotescu
Carmen Holotescu is a Professor and Dean at the Faculty of Engineering, Director of the Center for Open Education and Blockchain part of the "Ioan Slavici" University of Timișoara, Romania with a PhD on new technologies and open education. She has participated in many European projects and has a rich experience in designing and implementing learning and collaborative platforms based on open pedagogies. She has written over 100 articles and chapters/books related to eLearning/Blended Learning, Social Media, Open Educational Resources (OER), Massive Open Online Courses (MOOC) and Blockchain, mentioned in more than 1,500 citations. She is an online certified instructor of the University of Maryland University College, USA, facilitating for 12 years online courses at this university.
Couldn't attend the webinar?
Watch the live stream on YouTube, by clicking on the video below: