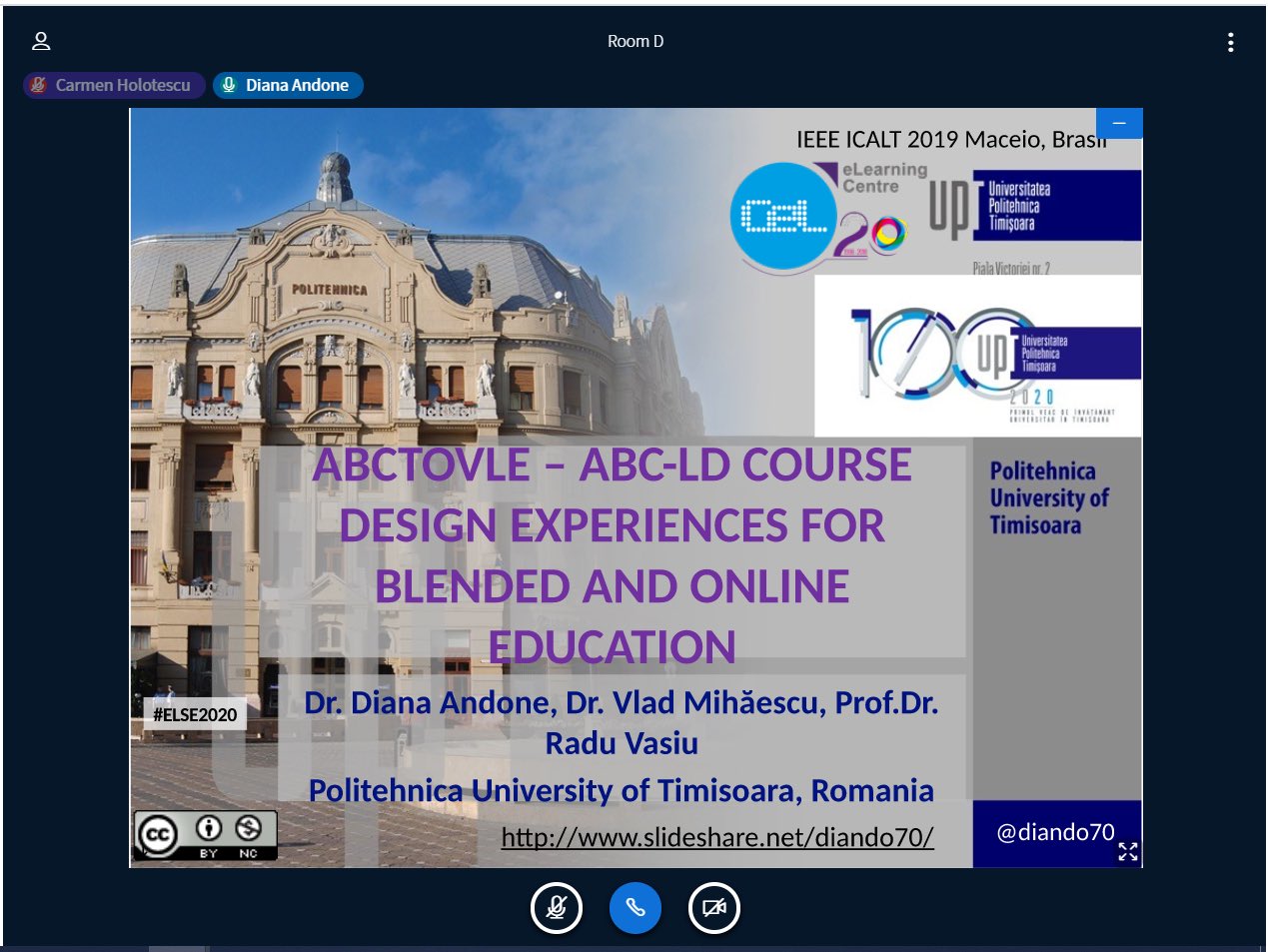 The work of UPT inside the ABC2VLE Project, presented within eLSE 2020 Conference
During the 16th eLearning and Software for Education Conference - eLSE 2020, Dr. Diana Andone and Dr. Vlad Mihăescu presented the work of UPT inside the ABC2VLE Project.
eLSE 2020 was organized by Advanced Distributed Learning Romania Association under the patronage of Carol I National Defence University and European Security and Defence College (ESDC) as an eLearning related international conference and due to the pandemic was held online in April 30 – May 1, 2020.
The central theme of eLSE 2020 was eLearning sustainment for never-ending learning.
The purpose of the annual international scientific conference on "eLearning and software for education" is to enable the academia, research, and corporate entities to boost the potential of the technology-enhanced learning environments, by providing a forum for the exchange of ideas, research outcomes, business case and technical achievements. Academics, independent scholars, researchers and students from all around the world are invited to meet, exchange ideas and discuss issues concerning all fields of Education.
Diana and Vlad presented the paper entitled ABCTOVLE – ABC-LD COURSE DESIGN EXPERIENCES FOR BLENDED AND ONLINE EDUCATION, written by them together with prof.dr.ing. Radu Vasiu. The paper presents the results of the UPT work inside the Erasmus+ project ABC2VLE, the localization of the project tools inside UPT, the workshops held by UPT and the results obtained after these workshops.
The paper was well received by the participants in the virtual room (around 50) and got some interesting questions regarding the possibility of extending this method in other universities in Romania.