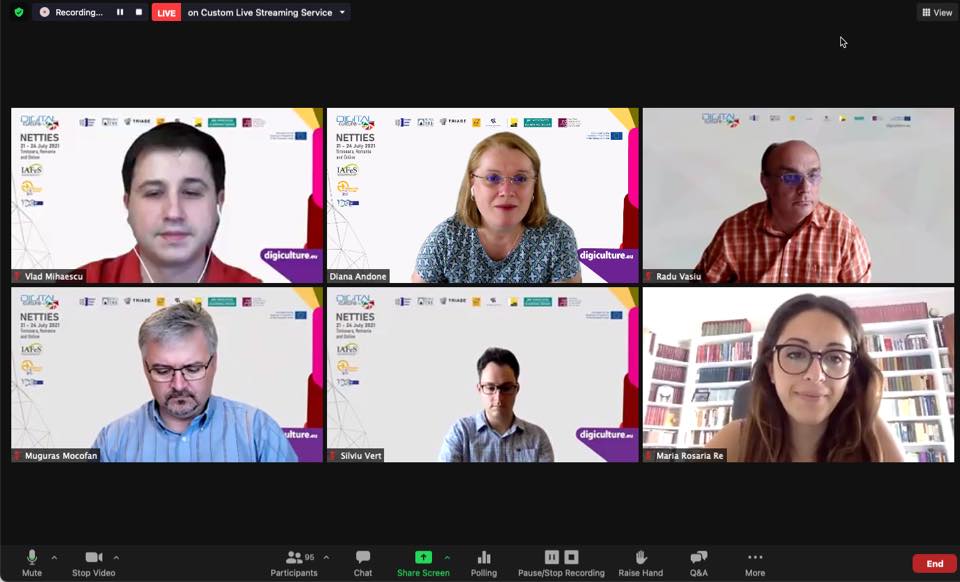 #impreunaonline webinar: DigiCulture Project and Courses
#onlinetogether #impreunaonline
In the last period of uncertainty due to COVID-19, in Romania, as in other countries, educational functions and activities face to face were moved in online, using applications, platforms and various tools and working methods for distance education.
In the Together online webinars we respond to these challenges, in the most practical way possible, in spirit open education and free access to knowledge. 
Thursday, July 22, 4:00 p.m.

DigiCulture Project and Courses
DigiCulture Erasmus + team

#30 edition of the webinar series Online Together brought to the forefront the DigiCulture Erasmus + team that presented the 13 DigiCulture courses, as well as the open digital certificates awarded following their completion.
Virtual Workshop Together Online - DigiCulture Project and Courses was organized by the teams of the ID / IFR and e-Learning Center and the Multimedia Center, together with the partners of the DigiCulture Erasmus + project on Thursday, July 22, as part of the event IAFeS NETTIES International Conference & DigiCulture Erasmus + Closing Workshop.
In the workshop webinar, over 300 of participants discovered on the Zoom platform and live, on Facebook, those 13 DigiCulture courses, as well as the open digital certificates granted after their completion, presented by the international project partners. The workshop took place in Romanian and the participants received open digital certificates Together Online, also expressing their enthusiasm to enroll in DigiCulture Erasmus + courses.
Open Badge - Online Together
Participation was free and participants received Open Badges.
The Erasmus + project Digital Culture - Improving the digital competences and social inclusion of adults in creative industries took place in Timisoara. has developed a sustainable and effective education program, dedicated to adult learners with low digital skills and low-skilled adults, involved in the creative industries sector in Romania, Italy, Austria, Denmark, Lithuania, Great Britain and Ireland. The main results include online, free, MOOC courses for digital skills and social inclusion for the creative industries, their certification through open digital certificates.
Together online webinars are organized in collaboration with IEEE Romania, Romanian Alliance of Technical Universities, EDEN Association and The Politehnica University of Timișoara, every week with guests from other universities and schools in Romania.