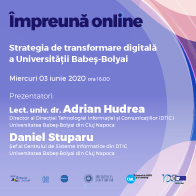 Webinar #onlinetogether - The digital transformation strategy of Babeș-Bolyai University
#onlinetogether #impreunaonline #covid19 #webinar
Societies, communities, people around the world are increasingly dependent on technology.
Technology has profoundly changed society and individuals: from the way we socialize, to the way we communicate, govern, buy, learn, work, teach, research. 
In the future, technology will have an even greater impact on us, it will be an integral part of everything we do.
Obviously, the university environment is not immune to these changes and it is vital in this regard that each university has a vision and a strategy to adapt to the digital age of most of its activities and processes, both because it is much more efficient, as well as because all its stakeholders will be there, from students and employees to suppliers, public institutions and competitors.
Obviously, digitalization is a tool, not an end in itself, we do it so that the University can fulfill its mission more easily, to be more efficient, to save resources, to make everyone's work easier, faster, and more pleasant, to increase interaction, to use resources as rationally as possible.
Wednesday, June 3, 2020, 4:00 p.m.

Speakers: Lect. univ. Dr. Adrian Hudrea, Director of the Directorate of Information and Communication Technology (DTIC), Babeș-Bolyai University
Daniel Stuparu, Head of the DTIC Information Systems Center, Babeș-Bolyai University
Watch the live stream on YouTube, by clicking on the video below:
During this webinar, the experts from Babeș-Bolyai University presented the strategies used by them to further fulfill the mission of a successful education, even in the digital age.
Also during the webinar, the representatives of the Cluj University spoke about the challenges encountered, in terms of the strategy of digital transformation in the educational environment and answered the questions received from the participants. 110 people were present, both from the Politehnica University of Timișoara, but also from other universities in Romania.
Online Together webinars are organized in collaboration with IEEE Romania, the EDEN Association and the Politehnica University of Timișoara.

Open Badge - Online Together
Participants received an Open Badge - Online Together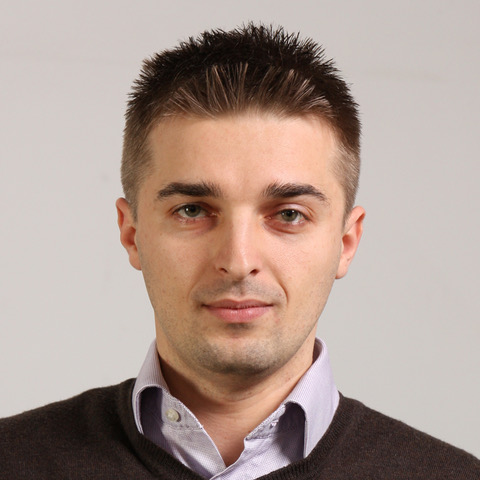 Lect. univ. Dr. Adrian Hudrea
Adrian Hudrea is a Lecturer in the Department of Public Administration and Management (FSPAC) at Babeș-Bolyai University and director of the Information and Communications Technology Department. He graduated with a bachelor's degree in Public Administration in 2004 and an MPA with a specialization in Public Services Management in 2006. In 2005 he received a research scholarship to Michigan State University and in 2015 he obtained a doctorate in Sociology. His areas of interest and expertise are: management and reform of public institutions, strategic planning, organizational culture and leadership.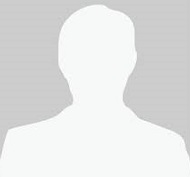 Daniel Stuparu
Daniel Stuparu has been leading the Information Systems Center within UTB's DTIC for about 10 years. He graduated in 2003 with a specialization in Informatics from the Faculty of Mathematics and Informatics, followed by a master's degree in databases and electronic commerce. Also, in 2017 he became an economist, graduating in Finance - Banking. His areas of interest are databases and big data, which he is trying to unite with the economic side, related to stock exchanges and capital markets.