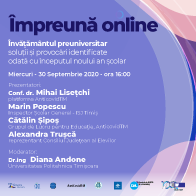 Webinar #onlinetogether - Higher education – solutions and challenges identified with the beginning of the new school year
#onlinetogether #impreunaonline
In these times of lockdown due to the COVID-19 pandemic, just like in other countries, face-to-face educational functions and activities are being moved online, using apps, platforms and various tools for distance education.
In the Online together webinars, we respond to these challenges, in the most practical way possible, in the spirit of open education and free access to knowledge. Participants received an Open Badge (Open digital certificate) - Online together.
Wednesday, September 30, 2020, 4:00 p.m.

Higher education – solutions and challenges identified with the beginning of the new school year
Speakers:
Marin Popescu - General School Inspector - ISJ Timiș
Assoc. Prof. Dr. Mihai Lisețchi - AnticovidTM platform
Cătălin Șipoș - Working Group for Education, AnticovidTM
Alexandra Trușcă - representative of the County Council of Pupils
Moderator
Dr. Eng. Diana Andone - Politehnica University of Timișoara
What are the challenges faced in schools in Timiș after the beginning of the school year?
What solutions do the representatives of the Timiș County Inspectorate propose?
What solutions do the representatives of the AntiCovidTM platform propose?
What is the perspective of the pupils from Timiș?
Two weeks after the beginning of the school year during the pandemic, assoc. prof. dr. Mihai Lisețchi - AnticovidTM Platform, Marin Popescu - IȘJ Timiș, Catalin Sipos - GLE AnticovidTM along with the student representative Alexandra Trușcă - Timiș County Council of Pupils proposed an analysis on the situation from Timisoara schools, with the challenges encountered by both teachers and students, but also with identified solutions and recommendations of good practice for the optimal functioning of higher education in the conditions imposed by the COVID-19 pandemic.
In this regard, they presented objectively the current situation in the school environment, what measures have taken public services at county level and how to act to achieve educational objectives in higher education during this period, followed by various digital solutions, by creating study groups , collaboration with pupils for educational materials and a responsible attitude from all educational actors, but also outlining a realistic image of pupils' needs during this period, in order to continue learning in optimal conditions.
the over 450 participants expressed interest in the most urgent solution of different problems and challenges greeted at the beginning of the school year, focusing on the following:involvement","DIGITIZATION","collaboration" and "responsible attitude", In order to find the right solutions to have a quality education.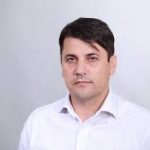 Marin Popescu
Prof. Marin Popescu is the General School Inspector within the Timiș County School Inspectorate.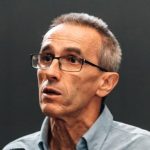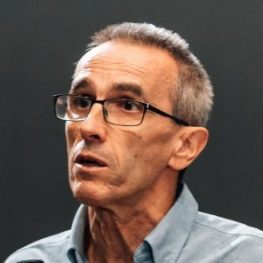 Mihai Lisețchi
Assoc. prof. dr. Mihai Lisețchi has been involved in civic participation for almost 30 years, from different perspectives, either by taking the citizen at the foreground, or the citizen organizations (non-profit non-governmental organizations). Throughout this period he has done and continues to do activism on civic issues, having over two decades of consulting. For several years he has been teaching at the West University of Timișoara on topics related to his field of expertise: social entrepreneurship, social economy organizations, public participation, open government, etc.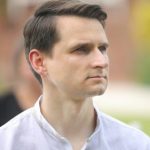 Cătălin Șipoș
Cătălin Șipoș is a telecom engineer by profession, a founding member of the Initiative Association in Education and involved in various projects in the fields of education and social.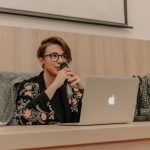 Alexandra Trușcă
Alexandra Trușcă is the president of the Timiș County Pupils 'Council - the pupil representation structure in Timiș County, which fights for pupils' rights and which starts projects to transform the school environment into a better one, one in which all pupils feel safe. Until now, the Timiș County Pupils 'Council has organized projects aimed at the educational field and which ensure the observance of pupils' rights. From free transportation for commuting pupils to respecting the right of adult pupils to leave school, CJE Timiș is always ready to make a change in the field of education.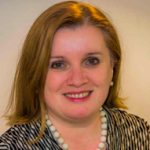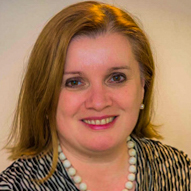 Dr. Diana Andone
Dr. Andone runs the team who developed the university's award winning Virtual Campus CVUPT and is also a professor at the Politehnica University of Timișoara, Romania, in the area of multimedia and web technologies. She is passionate about the ubiquitous access to technologies and how they can be used to improve people's lives. Dr. Andone research includes web and mobile technologies, human-computer interaction, AR/VR/XR in education and culture, open education, online and mobile learning, OERs and MOOCs. Her publication list comprises 12 books and over 100 papers presented at international conferences, 9 best paper awards, reviewer of several journals and conferences, and also chairs IEEE and ACM conferences. Her experience includes over 30 European funded projects, out of which she coordinated 6, notably ViCADiS (Virtual Campus for Digital Students), DigiCulture (Digital Skills for Creative Industries). She is also involved extensively in several professional organisations and associations (EDEN, IEEE, IADIS, AACE, W3C, IAFES), actively supports the local start-up movement (StartUp Weekend, HackTM, hackathons, CoderDojo) and Girls in Tech, as well as acting in the Board of local Romanian NGOs (Pentru Voi Foundation) in the Timisoara 2021 European Capital of Culture Task Force and a member of Rotary Club Timisoara (past president) and Rotary International.
Open Badge - Online Together
Participation was free and participants received Open Badges.
Online Together webinars are organized in collaboration with IEEE Romania, the EDEN Association and the Politehnica University of Timișoara, every week with guests from other universities and schools in Romania.
Watch the webinar recording below: