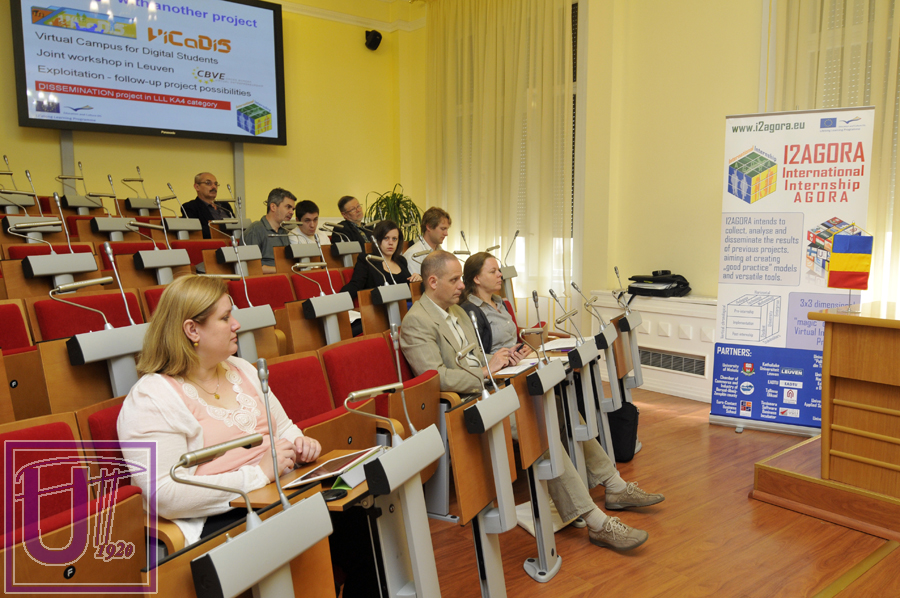 Employability Clinique – I2AGORA
I2AGORA Employability Clinique main objective is to appraise and present the student – university – enterprise link based on a 3×3 dimensional approach – a "magic" cube of a Virtual Internship Programs.
The event is organised by "Politehnica" University of Timisoara as part of the i2AGORA EU LifeLongLearning project with direct contributions from Miskolc University, HU, EADTU – European Associations of Distance Teaching Universities, Oulu University of Applied Sciences, FI, Katholieke Universiteit, BE, Open Universiteit, NL, ECBS Budapest, HU, UBIT Timisoara and TehImpuls Association, Romania.
The morning session focus on best practices of virtual mobilities and internships and is dedicated to educators and students, but also to companies.
The afternoon session focus on universities – enterprise co-operation, virtual internships, virtual entrepreneurship and is dedicated to companies representatives and students.
A Certificate of Participation will be awarded.
You are welcomed to participate in both sessions!
Prof.dr.ing. Radu Vasiu
Dr. Diana Andone
AGENDA
Employability Clinique
International Internship Agora (I2AGORA)
25 May 2012
Timisoara, Romania
Venue / Loc:
Universitatea "Politehnica" din Timisoara (UPT)
Rectorat
Sala Mica a Senatului, etaj 1
Pta Victoriei No 2
Timisoara, Romania
 I2AGORA Employability Clinique (for educators and students) 
 9:00 – 13:30 
| | |
| --- | --- |
| 9:00 | Welcome – prof. Radu Vasiu (UPT), Prof. Maria Kocsisné Baán  (Miskolci Egyetem, HU), Tibor Dori (ECBS) |
| 9:15 | I2AGORA – objectives and actions – Prof. Maria Kocsisné Baán  (Miskolci Egyetem, HU), Tibor Dori (ECBS) |
| 9:40 | Educational, pedagogic approach – Lauri Kurkela  (Oulu University of Applied Sciences, FI) – details |
| 10:00 | ICT, Web 2.0 for supporting International Internship – Dr. Diana Andone (UPT) – details |
| 10:20 | Make it work! Enhancing international work placements through virtual mobility – Bas Bergervoet (KU Leuven, BE) – details |
| 10:40 | Virtual Internship – Discussions |
| 11:00 | Coffee Break |
| 11:20 | Mainstreaming and Multiplication of innovative projects – Darco Jansen (EADTU, EU) – details |
| 11:40 | eMentoring for starting a business – lect.dr. Laura Malita, Catalin Martin (Romanian Institute for Adult Education, Timisoara) |
| 12:00 | University – business cooperation: the different dimensions in virtual internships – dr. Ansje Löhr (Open Universiteit, NL) – details |
| 12:20 | Best practices in career advisory activities for pre-university students – Camelia Mot |
| 12:40 | Frameworks for students' informal learning within IT specialists communities – Radu Ticiu (Timisoara Software Business Incubator) |
| 13:00 | Virtual Internship – Discussion |
| 13:30 | Lunch (Sala Mica a Senatului) |
 I2AGORA Employability Clinique (for companies and students) 
 14:15 – 17:00 
| | |
| --- | --- |
| 14:15 | Welcome – prof. Radu Vasiu (UPT), Prof. Maria Kocsisné Baán  (Miskolci Egyetem, HU), Tibor Dori (ECBS, HU) |
| 14:20 | EU Co-operation in projects – I2AGORA – & ViCaDiS –  Prof. Radu Vasiu (UPT) |
| 14:40 | Developing Virtual Entrepreneurship – Dr. Diana Andone (UPT) – details |
| 15:00 | TehImpuls & Innovative Clusters, West Development Agency (ADR) – Cristian Cistelecan, ADR Romania |
| 15:20 | Coffee Break |
| 15:40 | University – business cooperation: the virtual consultancy – dr. Ansje Löhr (Open Universiteit, NL) – details |
| 16:00 | Closed loop cooperation with education and the use of formal and informal networks  – Darco Jansen (EADTU, EU) – details |
| 16:20 | Discussion on University-enterprise co-operation – Prof. Radu Vasiu (UPT), Radu Ticiu (Timisoara Software Business Incubator) |