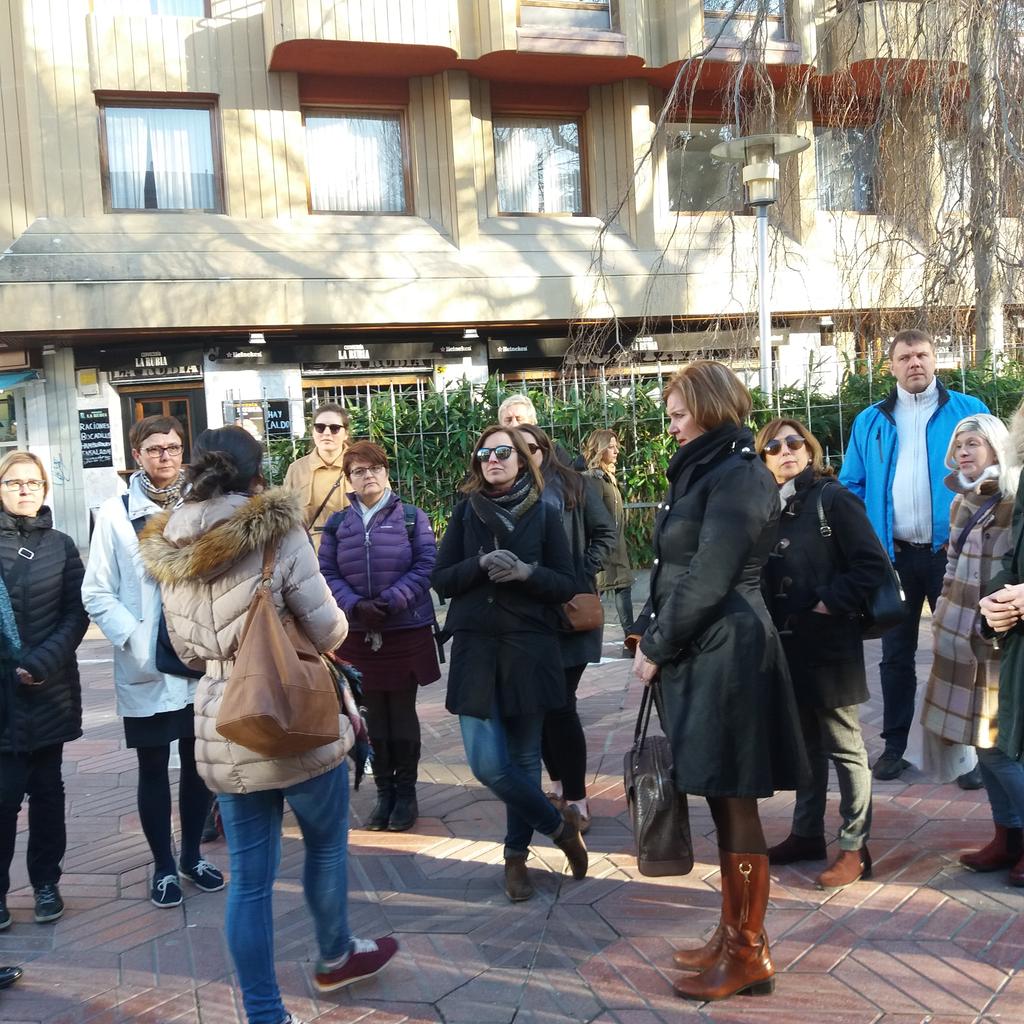 6th GirlsTech meeting in Vitoria, Spain
01 march 2018
Erasmus+ Girls Tech meeting
Vitoria-Gasteiz, Spain
29 -20 January 2018
Monday 29 January
Presentation of Spanish education system,Asier Garitaonandia, VET knowledge Basque Institute
Woman and Egual Oportunities – ADA+ DIANA, Ángeles Matesanz Barrios and Mónica Castellanos Torres, Woman and Egual Oportunities Institute (Equality Ministery)
Round Table: Equality and immigration
Inspira Project, Mª Luz Guenaga, Deusto LearningLab-Engineering Faculty
Ethazi valores 4.0 Dynamic: Equity value in the classroom,Natalia Gastón, Tknika- Basque VET innovation centre
Lunch at Florida Restaurant,Zabaltegi is a catering company whose purpose is the insertion of disadvantaged people to labour market.
Women's Vitoria , Artea guides
Women in Wineries and visit to the winery,Ainhoa Ruiz de Viñaspre (Laguardia)
Tuesday 30 January
Lifelong learning, Dynamic: Stereotype hunting, Uxue Zangitu, learning advisor
ERAIKEN Building school, JuanEdu Iriondo + VET students
Agroforestry,Gemma Marín + Ane Calabria (IES Murgia BHI)
Round table: Technician women and rural world
The meeting started with a welcoming speech delivered by Nerea Melgosa, city councillor.
The instruments show transferable potential and could be implemented in Romania are: instrument 1 (ADA and DIANA. Programming in equality), instrument 2 (The Inspira Project) and instrument 5 (Women in Wineries).
I think these approaches could be beneficial to our country because they can raise interest regarding involving women in STEM areas.
Similar projects with ADA and Diana are already running in Romania (to promote kids` interest in technological studies/projects, by stimulating and enhancing their creativity, logical and abstract thought, teamwork, solving problems).
Romania also has wineries and could use workshop for implementing vocational training among women as well.
Inspira Project is really inspiring, girls should never fear that only men can do some specific jobs, girls should be encouraged and motivated despite the nature of their job.
We were shown a video where three young ladies wanted to change the world: '' I want to cure breast cancer, I want to fight against global warming, I want to make sure there is enough water on the planet for everybody''.
Promoting technological vocation among girls may/will overcome a psychological barrier that we encounter and fight against, in STEM areas. The situation on the labour market is rooted back in the education, where there is a lack of unawareness of the STEM professions available both for men and women, since there is technology and science in any field. Girls should be encouraged to choose their future with freedom, not stressed by stereotypes, friends, family, society.
In order to introduce and implement these instruments in Romania, first of all we need to let go of stereotypes and be more aware of such productive project meeting. Further research is needed as well, to see the exact way such instruments could be implemented in Romania. Organising more informal activities, presenting female role models and exposing girls/women students to it-that is the recipe.
Maybe Instrument 3, Ethazi 4.0 values (a transverse training that impregnates all the theoretical and practical areas of knowledge) would be more difficult to be transferred, as Vocational training in Romania is differently regularised compared to the Basque system of education.
In Basque/Spanish educational system there are no clear levels (EQF) for Grado Medio/ Grado Superior. The Spanish Government is still working on establishing if level 2 is recognised as 4 or 5 in the European education standard. However, the Spanish educational system provides to future students multiple possibilities to upgrade their education. More, if a student reaches a certain level, one has the chance to redefine their education by requesting the recognition of the level and pursuing a new field.
Spain has a medium level of participation of girls/women at the STEM at the labour market. The reasons are multiple (mainly social: stereotypes, family history, women`s access to work/ career), according to the discussion had after Mr. Asier`s presentation on the Spanish system of education. The main reason, though, is social. Many areas/jobs are addressed to girls and only girls. These domains are historically established by the language itself. Ex: administrativa, infermera. The terminology sets the tone of certain jobs/fields and incapsulates them from women. This way, a subliminal message is addressed that only men(or women) should reach it.