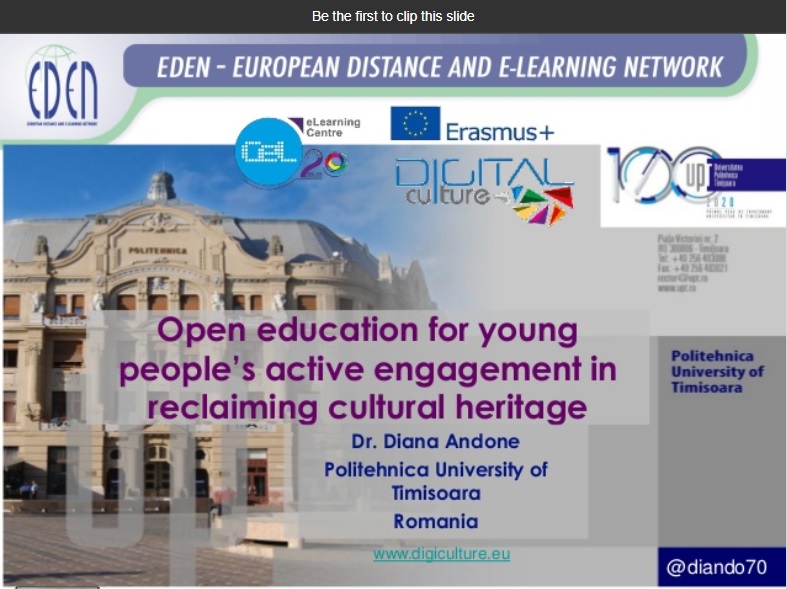 Dr. Diana Andone about the cultural initiatives in the Digiculture project, within #OEW2020 EDEN webinar
Open education for young people's active engagement in reclaiming cultural heritage, #OEW2020
Open education has a key role to play in potentiating social inclusion. As noted by the European Commission for education in general (but is particularly relevant for open education) it helps to establish common values key to such inclusion: human dignity, freedom, democracy, equality, the rule of law, respect for human rights, the rights of minorities. However, as also noted, it can be seen in most member states that there are challenges to such inclusion, namely: populism, xenophobia, divisive nationalism, discrimination, misinformation, and radicalization (that can lead to violent extremism).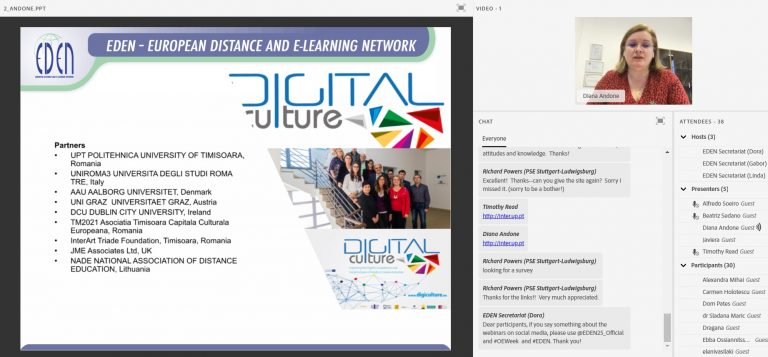 In order to counter these problems, the promotion of citizenship education has been pursued over a period of years. However, the open educational content and practices necessary to teach the different paradigms of active citizenship are arguably still difficult to find. The need to respect cultural diversity is important in the educational process since there isn't just one "model citizen". We need, therefore, to teach and support students, especially the younger generations, to appreciate the importance of active citizenship and achieve their participative role in society as a whole. In this webinar different aspects and examples of the role of open educational resources and practices for citizenship education will be considered and how they can be potentiated in the future.
Check out the presentation below:
Dr. Diana Andone is the director of the eLearning Center of Politehnica University of Timișoara, with responsibilities in the planning and implementation of distance learning and the integration of the use of online educational technologies for all forms of education, through the UPT Virtual Campus - CVUPT. Andone is a lecturer in multimedia and web technologies, with an intense research activity at international level through various projects with European funding and multiple publications (with over 17 books, 80 scientific papers, 11 Best paper Awards). Passionate about the use of technologies in everyday life, Diana promotes the use of open resources OER and MOOCs, developing UniCampus - online courses in Romania. Dr. Andone is strongly involved in the activity of the scientific community through various management functions of international associations EDEN (Vice-president), IEEE Romania, IEEE CS TCLT, but also by supporting the activity of the regional community of start-up and innovation, cultural and social responsibility.