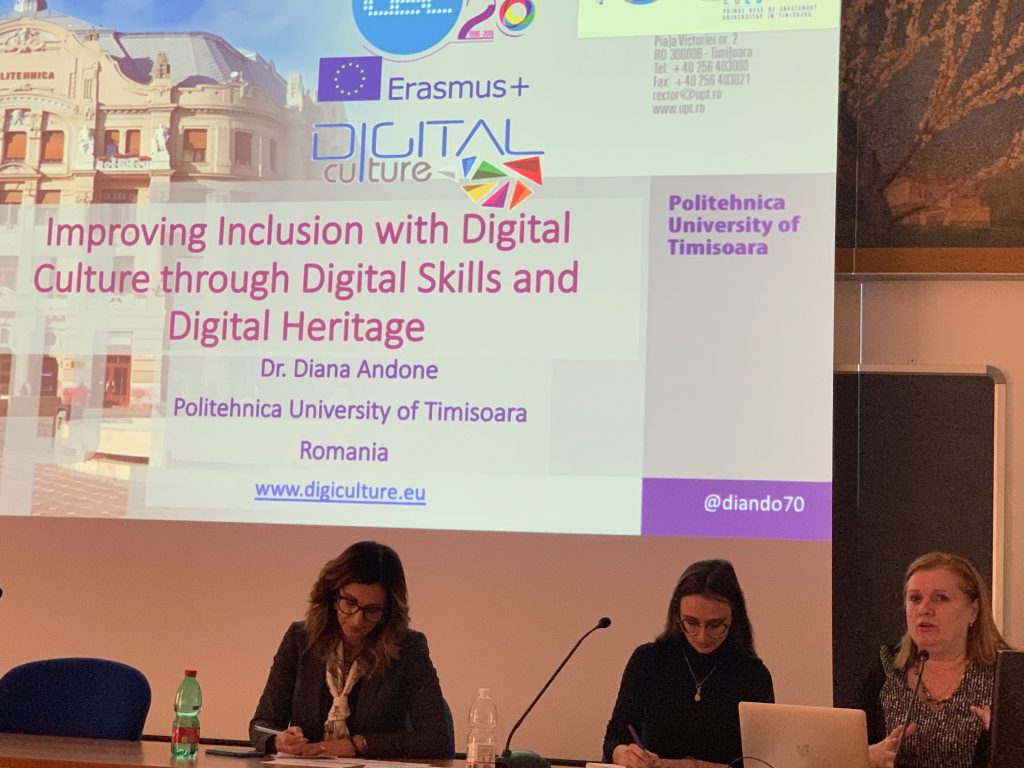 DigiCulture during Inclusive Memory Final Conference
Diana Andone, project coordinator, together with Radu Vasiu, both from the Politehnica University of Timisoara, attended the Call for Ideas Inclusive Memory Final Conference, in Rome, Italy, during 13-15 February 2020. The Conference was organised by the Centre for Museum Studies based at the Dept. of Education Università Roma Tre and partner of the DigiCulture project.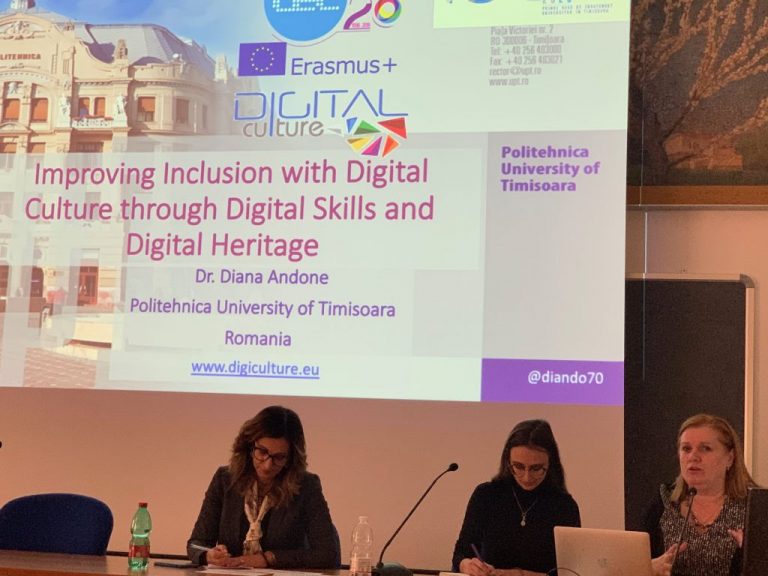 The Inclusive Memory project fosters the construction of a shared and collective social memory through an inclusive system within the museum. The core of this project is a close connection between new teaching methodologies and the implementation of new digital tools, in order to encourage the development of cross competencies at all museum users' disposal, especially for the disadvantaged sections of the population and also to reinforce contacts and instruments of the linguistic and cultural mediation. The Inclusive Memory project involves seven Departments of the University of Roma Tre: Education, Engineering, Foreign Cultures, Languages and Literature, Political Science and Business Studies. The project is coordinated by Antonella Poce, Associate professor of Experimental Pedagogy, Head of the Centre for Museum Studies and responsible of the research group of the DigiCulture project based in University of Roma Tre.
The Inclusive Memory Final Conference, organized by the Department of Education of University of Roma Tre, hosted 15 presentations from people from the education, science and cultural areas from the USA, South Africa, Italy, Romania, France and Switzerland. The conference was composed of keynote presentations and round tables where students and specialists who worked in museums presented their work and results. Moreover, professors and researchers of University Roma Tre presented, with the support of different museum professionals, the first results of the Inclusive Memory project: training activities for teachers and educators, workshop with students and museum educators, education activities for digital and transverse skills promotion aimed at social inclusion development.
Diana had a presentation on Friday, February 14, entitled Improving Inclusion with Digital Culture through Digital Skills and Digital Heritage.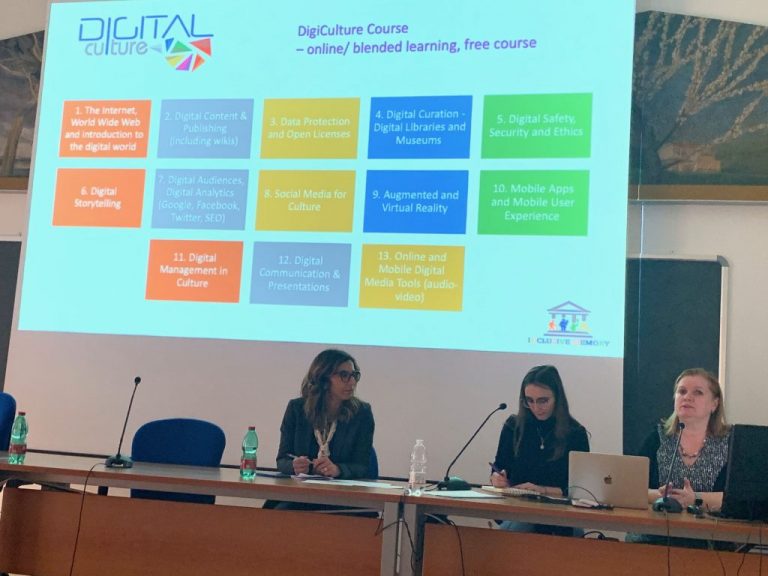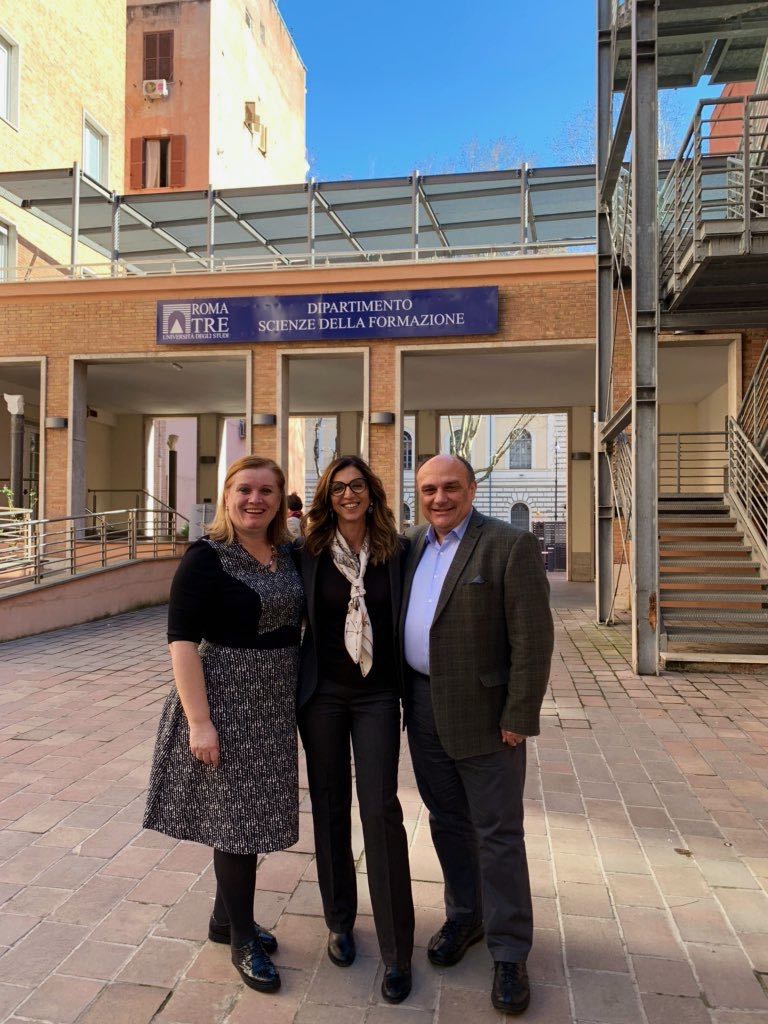 Spotlight Heritage Timisoara reveals, by digital storytelling, Timisoara through stories of cultural and historical heritage, of technical development, of communities and neighborhoods, interwoven with the personal stories of the inhabitants of yesterday and today. Spotlight Heritage is a digital cultural initiative of the Politehnica University of Timișoara realized in partnership with the National Museum of Banat and with the Timișoara Association 2021 European Capital of Culture. Spotlight Heritage involves the population of Timișoara and its visitors in a complex real – virtual world that combines the old history of Timișoara, presented as a digital story, through a website and a mobile application with augmented reality, and the museographic exhibition at the headquarters of the National Museum of Banat but also in public places in the neighborhoods, under the title "Timisoara and the allegory of the senses".