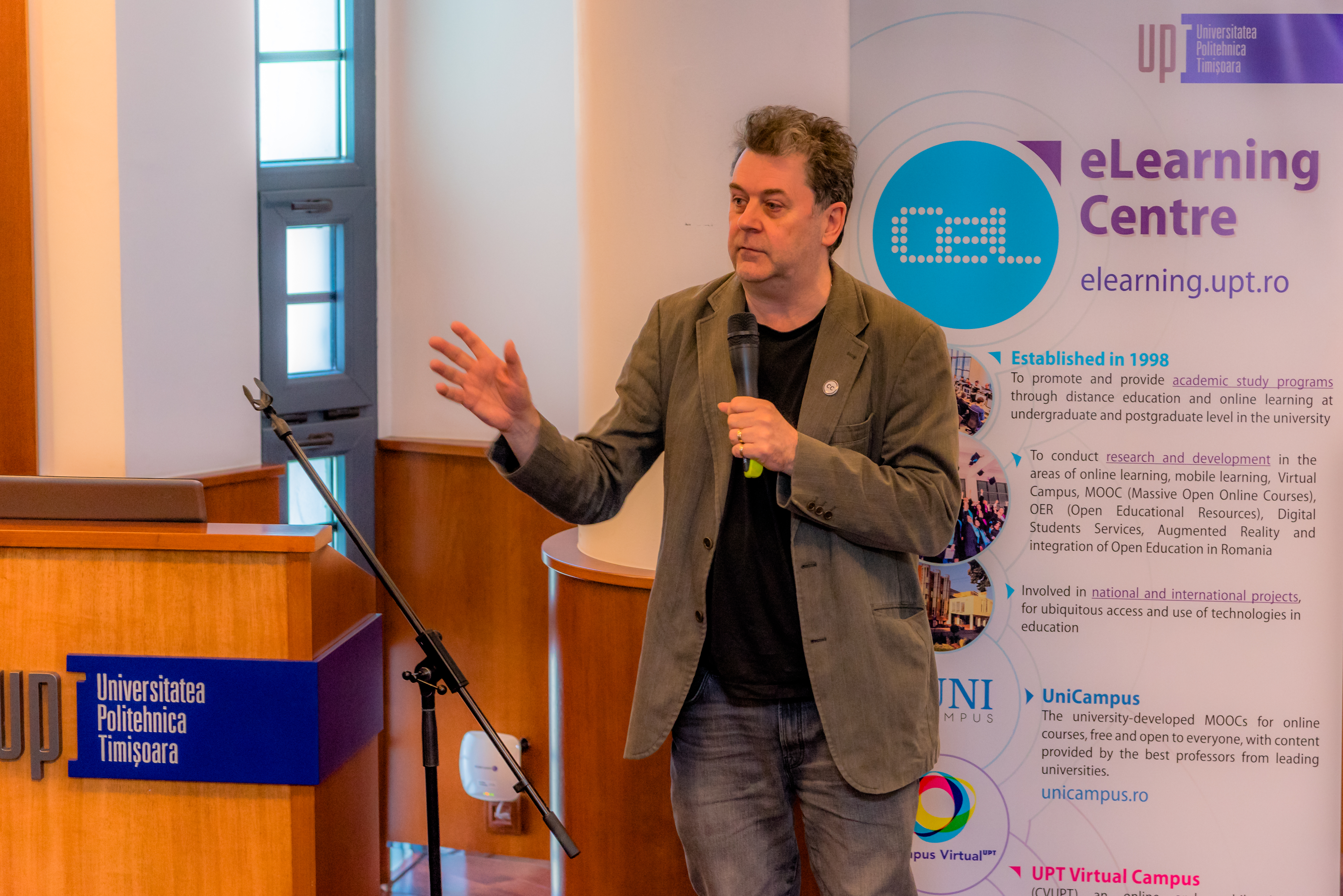 Workshop Open Education in the Digital Age
6th edition
Friday, 22 March 2019
The Politehnica University of Timișoara through the ID / IFR and E-Learning Center invite you to participate to the Workshop Open Education in the Digital Age - the impact of openness: institutions, resources, tools, teachers, topics, now at the 6th edition, Friday 22 March 2019, between 10:30- 14:00.
Organized as part of Open Education Week 2019 , the workshop aim is to highlight practical examples of open education, the use of open educational resources, OER and the massive open online MOOCs courses in education of all types. Various open tools, mobile learning situations, implementation studies for augmented and virtual reality in education, open research, blockchain in education, fake news education, girls and women in science, what are and how virtual mobilities work.
Prof. Dr. Steve Wheeler - Key note speaker
This year's key note speaker, Steve Wheeler, is a Learning Innovations Consultant and former Associate Professor of Learning Technologies at the Plymouth Institute of Education where he chaired the Learning Futures group and led the Computing and Science education teams.
He continues to research into technology supported learning and distance education, with particular emphasis on the pedagogy underlying the use of social media and Web 2.0 technologies, and also has research interests in mobile learning and cybercultures. He has given keynotes to audiences in more than 35 countries and is author of over 150 scholarly articles, with more than 7000 academic citations. An active and prolific edublogger, his blog Learning with 'e's is a regular online commentary on the social and cultural impact of disruptive technologies, and the application of digital media in education, learning and development. In the last few years it has attracted in excess of 8 million unique visitors.
The workshop addresses academics, students, teachers of undergraduate education, specialists in training companies, IT or HR departments. Participation is open and free, presentations will be held in Romanian and English and participants will be issued with a certificate of participation.
There will be 9 international level presentations with case studies from Romania and the European Union as well as other significant details regarding Open Education.
As every year, the workshop is organized by the E-learning Center (CEL) of Politehnica University of Timisoara, the EDEN Association and IEEE Romania and will be live streamed.
The workshop will be available online, after the event, on the online educational platform UniCampus.
Workshop Agenda
10:30 – Opening the event
10:45 - Dr. Diana Andone, CeL director - Open Education Experiences in UPT
11:15 - Dr. Steve Wheeler (Keynote Speaker), Learning Innovations Consultant, Open Education in the Digital Age
12:10 - Dr. Sandra Kucina Softic, Zagreb University, Croatia, EDEN Vice-President - Open Education and EDEN initiatives - live video conference
12:25 – Coffee Break
12:40 - Dr. Carmen Holotescu, Ioan Slavici University Timisoara - How Blockchain Can Empower Education
12:50 - Dr. Diana Andone, CeL director - Use of digital tools in culture - The DigiCulture project study case
13:05 - Dr. Ilona Buchem, Technical University Beuth, Germany - Impact of Open Education on Virtual Mobility in Higher Education - live video conference
13:20 - Dr. Mugur Mocofan, UPT - Words are stones: Cyberbullying in Education
13:35 - Dr. Gabriela Grosseck & Dr. Laura Malița, West University Timisoara - Decoding Fake News at WUT
13:45 - Dr. Diana Andone, CeL director - Opening Up Learning Design - the ABC to VLE Project
13:55 – Conclusions and end of workshop
14:00 – Lunch