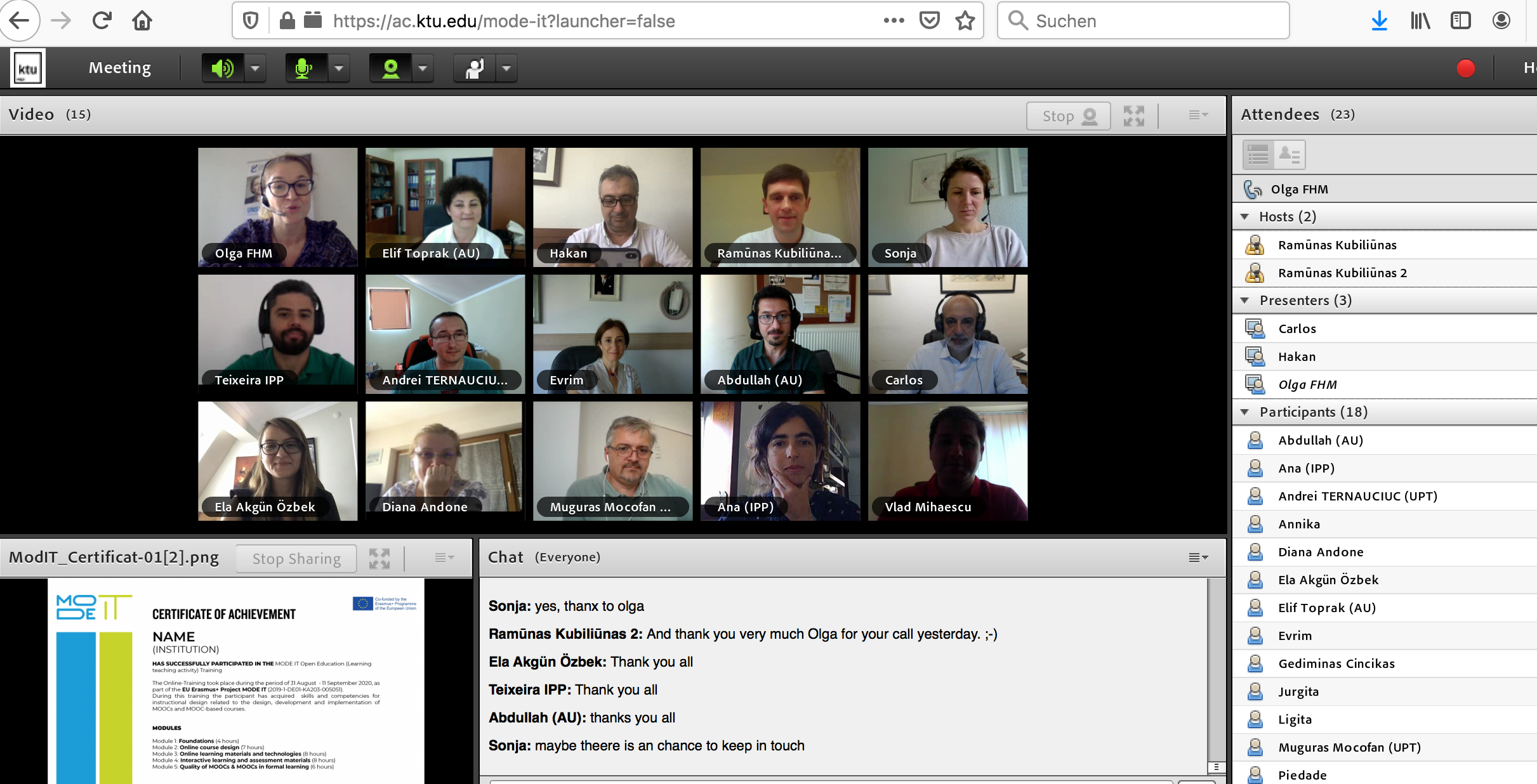 Upskilling of native MOOC instructors
From August 31 to September 11, 2020 MODE IT team has implemented a training for instructional designers and pedagogical support staff from project partner institutions.
This training aimed to boost skills and competences of instructional designers linked to the design, development and implementation of MOOCs and MOOC-based courses, and was an integral part of the project.
Due to COVID-19-related risks, the training of 35 hours was delivered completely online and represented a mix of synchronous live-sessions and asynchronous learning activities. The training sessions were implemented using the Moodle platform and Adobe Connect software provided by Kaunas University of Technology.
The training sessions were given by internal experts of the IT MODE team (Mr. Cengiz Hakan Aydin, Professor at the Faculty of Open Education of Anadolu University, Turkey and Mr. Ramunas Kubiliunas, Head of Software Systems at Kaunas University of Technology, Lithuania) and invited external experts with more experience in designing and delivering MOOCs (Mrs. Irina Otmanine, senior MOOC advisor and training designer at the University of the Cote d'Azur, France; Ms. Carmen Holotescu, director of the Center for Open Education and Blockchain at the University "Ioan Slavici "From Timișoara, Romania).
The training consisted of 5 modules, which were:
MOOCs: orientation and foundations
Online course design
Online learning materials and technologies
Interactive learning and assessment materials
Quality of MOOCs & integration of MOOCs into formal learning
The training contributed to attaining two main goals of the project:
First, trained instructional designers were prepared to provide pedagogical and technological support to academic staff at their home institutions when designing and delivering MOOC-based classes (IO3 of the project).
Second, trainees are now expected to jointly design and implement a MOOC for academic staff on how to create and deliver MOOCs and MOOC-based courses (IO2 of the project).