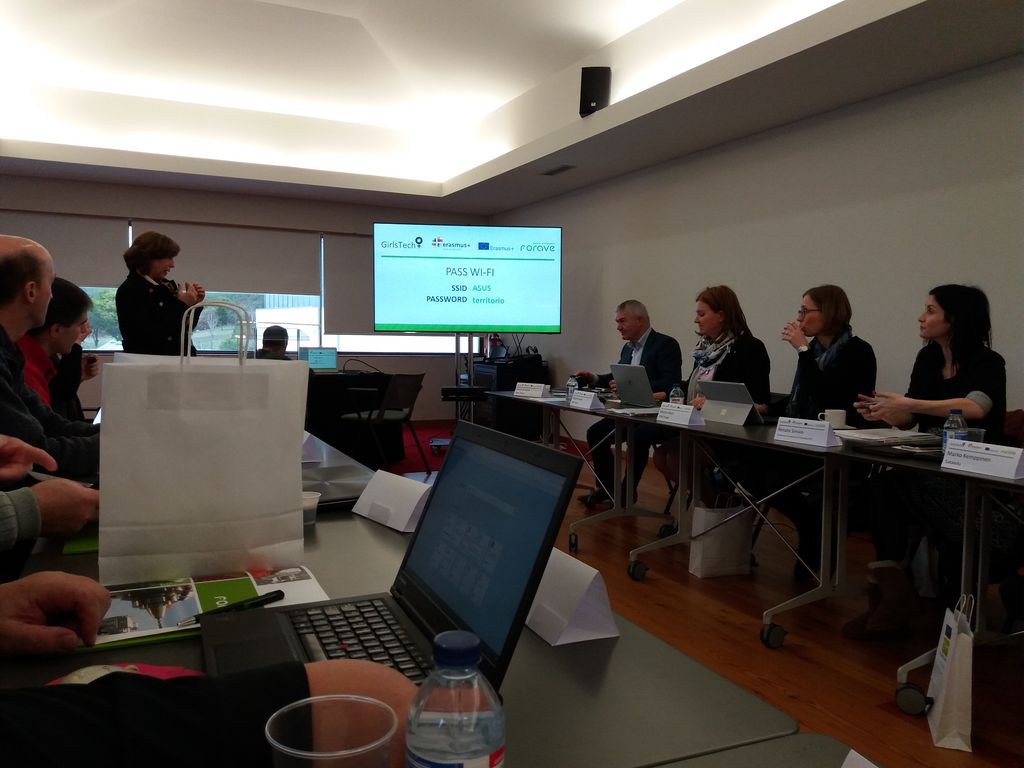 2nd meeting GirlsTech in FORAVE, Lousado, Portugal 6-7.2.2017
The second GirlsTech meeting
6-2-2017  /  7-2-2017
Casa do Território, VN Famalicão / FORAVE, Lousado, Portugal
Agenda
Monday, February 6, 2017
FORAVE (school presentation); Manuela Guimarães
Portuguese education system: Teresa Santos, FORAVE
Technical education - Vocational schools in Portugal: José Luís Presa, President of the National Association of Vocational Schools
Technological education in VN Famalicão; Leonel Rocha, the representative of the Local Network for Education and Training, from the City Hall
Vocational Education and Guidance; João Freire, psychologist at AESD Sancho
Initiatives at national level: César Silva, Representative from the CITEVE Training Department
António Luís, Director of CENFIM-Trofa
João D'Orey (Engineer), representative of the vocational school EP Aveiro,
Rui Silva / Dean of Lusíada University
Margarida Trigo, National President of WiE Women in Engineering
Joaquim Poças Martins, Director of the Order of Engineers
Tuesday, February 7, 2017
Visiting the school
Girls in VET and companies; Carlos Gonçalves, Director of the UK Department at Continental Women in Technology and Business (Professionals Share Their Experiences): Testimonials
Women in technology and companies (professionals share their experiences): Isabel Cardoso, Sales Manager (Portugal and Spain) at EVONIK
Participants from the Polytechnic University of Timișoara: Camelia Ciuclea, Renate Iovi.
Notes and discussions
The tools were clearly explained at the Porto meeting. I participated in a series of presentations focused on the situation of local associations and companies.
The tool that can be successfully implemented in Romania is the model proposed by Continental Mabor, whose key word focuses on diversity, on the acceptance of variety among people, regarding: religion, sex, age, social status, ethnic and social origins. Their approach is solution-oriented. On the one hand, it is known that the Continental company is present in the Romanian communities. On the other hand, the need for an adapted solution is imperative. Fewer and fewer young women are encouraged to take the initiative in setting up a family for fear of losing their jobs. Continental is already open in Romania to hire women as production operators, the next step would be to pave the way for them to grow up hierarchically and probably develop a program to support these women to pursue an appropriate education to qualify. for this thing. In order to introduce or implement the Continental Mabor approach in Romania, we must, first of all, raise awareness about the urgent need for the integration of women in all areas of expertise. Then we need to identify areas where women's integration has proven to be wise and recommended. Finally, we should extract these successful models, build a unitary model (a program, at the level of human resources) and apply it.
The Engine4F project is difficult to apply in Romania, because we have very few vocational schools (advanced mathematics and a science test are compulsory exam subjects for the 8th grade and for the baccalaureate). The Engine4F project is difficult to absorb as a model, because national curricula are not so flexible / sensitive to the needs of those with specific problems.
>> Back