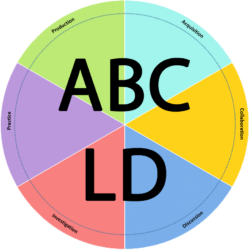 Registration open for the ABC LD #2 webinar - Designing online learning
We are still unable to support our ABC face-to-face workshops. However, many institutions want to continue to use this method of designing learning, effectively and interactively, with their colleagues.
I collected some ideas for the versions Designing online learning, which are available on the page ABC LD. The seats in the ABC LD #1 webinar were filled in full. For this reason, we will host another webinar on Thursday, July 2, at 2 p.m.
July 2, 2 p.m.

In the introduction Clive Young and Natasha Perovic - (ABC LD team) Digital Education Consulting, UCL, London, UK
Sanna-KatjaParikka, University of Helsinki, Finland
Diana Andone, Polytechnic University of Timisoara, Romania
In this webinar, the presenters will share live their own experiences of conducting ABC online workshops. We are waiting for you online!
This webinar will be recorded and the recording will be linked to the web pages of the events related to the project ABC to VLE. 
If you are looking for a efficient methods and interactive online learning design, we invite you to join the webinar ABC LD #2 to find out more information. The link for this webinar will be distributed to each registered Eventbrite e-mail participant.
Participants' contributions are also welcome.
If you would like to share your experience, please let us know. By registering for this event, you agree that your contribution will be recorded.