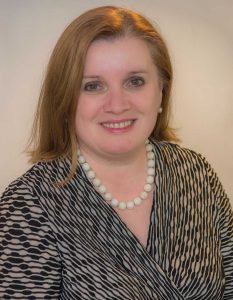 [English] Dr. Diana Andone is the director of the e-Learning Center, Politehnica University of Timișoara, with responsibilities in planning and implementing distance learning and integrating the use of online educational technologies for all forms of education, through UPT Virtual Campus - CVUPT. Dr. Andone is a lecturer in multimedia and web technologies, with an intense research activity at an international level through various projects with European funding and multiple publications. Passionate about the use of technology in everyday life, Diana promotes the use of open resources and MOOCs, developing UniCampus - online courses in Romania.
[English] Dr.ing. Diana Andone is the Director of the eLearning Center of Politehnica University of Timisoara, responsible for planning and implementing eLearning. She runs the team who developed and ensures daily integration of the university award wining Virtual Campus CVUPT. She is also senior lecturer at the Politehnica University of Timisoara, Romania, in the area of multimedia, interactive and web technologies. She is passionate about the ubiquitous access to technologies and how they can be used to improve people's lives.
Diana Andone holds a PhD in Designing eLearning Spaces for Digital Students with University of Brighton, UK, an MA in European Studies, an "Learning about Open Learning", a postgraduate distance education course at the Herriott-Watt University, Edinburgh, UK; an MSc in Artificial Intelligence at the Politehnica University of Timisoara, Romania, and also a BBC Producer Certificate. She attended different specializations in universities in UK, France, Finland, Greece, Germany. Since 1998 she teaches course modules in universities from UK, France, Finland, Italy and Greece.
The publication list comprises 17 books and over 80 papers presented at international conferences, she is reviewer for 12 International Conferences, 5 journals, 11 best paper awards at different conferences organized by prestigious professional associations (IEEE, ACM, AACE, IADIS, AITP), since 2010 Co-chair at the IADIS WWW / Internet International Conference and since 2016 Co-Chair of IEEE ICALT Conference.
In 2012 she received the EDEN Fellow Title (European Distance and E-Learning Network) and in 2014 was elected member of the EDEN Executive Committee and since 2018 is EDEN Vice-president for Communication and Communities.
She is since 2003 a member of IEEE (Computer Science, Education and Women in Engineering), since 2014 - IEEE Computer Society Learning Technologies Technical Committee TCLT (Publicity Chair), since 2018 - IEEE Romania Chapter Executive Committee (Education Chair).
In recent years she has been involved in over 30 EU funded projects, recently with a focus on open education, publishing and technologies. She was coordinator of the LLL ViCaDiS (Virtual Campus for Digital Students) project and national responsible on MODE-IT, ABCtoVLE, OpenVirtualMobilities, IoT Rapid ProtoLab, GirlsTech, m-commerce, SKILL2E, CBVI, i2Agora, TafCity, ESIL, e-Taster , e-report Erasmus + projects, as well as co-investigator in the national DidaTec project (Training in blended-learning and new educational technologies for university academic staff). She is now coordinator of Erasmus + DigiCulture project (Improving the Digital Competences and Social Inclusion of Adults in Creative Industries).
She is leading the UniCampus project with the goal of creating the first Romanian MOOCs. She actively promotes Open Educational Resources (OER), Open Knowledge (OKF) and Massive Open Online Courses (MOOCs) as part of her everyday activities or through her work in different associations or task-forces.
She is also involved extensively in several professional organizations and associations (IEEE, EDEN, IADIS, AACE, W3C, IAFES), actively supports the local start-up movement (CodeCamp, StartUp Weekend, HacktTM, hackathons, CoderDojo) and Girls in Tech, the Romanian Science festival and European Researchers Night, as well as acting in the Board of local Romanian NGOs (For You Foundation), in the Timisoara 2021 European Capital of Culture Task Force and a member of Rotary Club Timisoara (President 2018-2019) and Rotary International.
Dr. Diana Andone
Director
eLearning Center
Politehnica University Timișoara
Bul. V. Parvan No.2
300223 Timisoara, Romania
E-mail: diana.andone (at) upt.ro
Web: http://elearning.upt.ro/diana_andone
List of publications Diana Andone