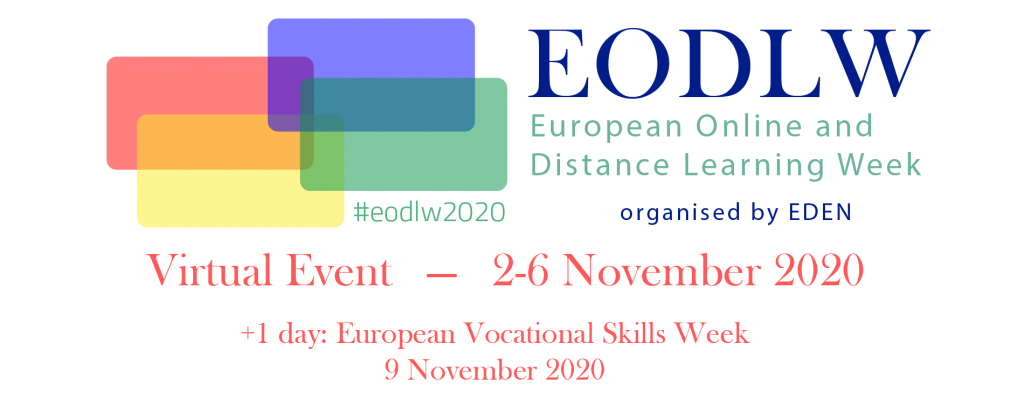 European Online Distance Learning Week (EODLW) – November 2-9, 2020 – JOIN AND NETWORK!
The e-Learning Centre invites you from November 2-9 to the 5th edition of European Online and Distance Learning Week (EODLW) 2020 . This year's edition is organized in partnership again with the United States Distance Learning Association (USDLA) and the Open Distance Learning Association in Australia (ODLAA) jointly with Flexible Learning Association of New Zealand (FLANZ) who are launching the Australasian Online and Distance Learning Week.
EODLW 2020
This week will be a good time to reflect on present changes influenced by pandemic COVID-19 and to enhance the possibilities of online and distance learning in today's "new normal".
During EODLW, you will have access to daily online webinars and panel sessions of expert scholars and practitioners who will present a variety of cutting edge open and online learning topics, from innovations in design to open educational research.
EDEN's webinars during the week:
Monday, 2 November 2020, 15:00 CET
Debate: Panel debate
Moderator: Elena Cardirola
Speakers: Dorothy Kelly, Antonella Forlino, Ignacio J. Blanco, Liliana Moreira
Monday, 2 November 2020, 17:00 CET
Debate: Debate
Moderator: Tom Farrelly
Speakers: Diana Andone, Mairéad Nic Giolla Mhichíl, Alexandra Cristea, Mark Brown, Don Olcott, Jr., Deborah Arnold Ulf-Daniel Ehlers
Monday, 2 November 2020, 18:30 CET
Debate: Presentation
Moderator: Ebba Ossiannilsson
Speaker: Sanjaya Mishra
Tuesday, 3 November 2020, 17:00 CET
Debate: Presentations with panel discussion
Moderator: Lisa-Marie Blaschke
Speakers: Orna Farrell, Richard Powers, Aaron S. Blackwelder
Wednesday, 4 November 2020, 12:00 CET
Debate: Presentations with discussion
Moderator: Orna Farell and Vlad Mihaescu
Speakers: Suzanne Stone, Rob Lowney, Lisa Donaldson, Tom Farrelly, Karen Buckley, James Brunton
Wednesday, 4 November 2020, 17:00 CET
Debate: Presentations and panel discussion
Moderator: Daniel Ulf Ehlers
Speakers: Laura Eigbrecht, Lilith Diringer, Carmen Romero, Ruben Janssens
Thursday, 5 November 2020, 13:00 CET
Debate: Presentations with discussion
Moderator: Sandra Kucina
Speakers: Michael Gaebel, Marta Zuvic, Airina Volungeviciene, Philippe Emplit
Friday, 6 November 2020, 15:00 CET
Debate: Presentations with discussion
Moderator: Diana Andone
Speakers: Martin Dougiamas, Svein-Tore Griff With, Frederick Dixon
Friday, 6 November 2020, 17:00 CET
Monday, 9 November 2020, 13:00 CET
Debate: Presentation with panel discussion
Moderator: Alfredo Soeiro
Speakers: Timothy Read, Alicia Miklavčič, Matti Isokallio
Thursday, 5 November 2020, 17:00 CET
Debate: Workshop
Moderator: Ebba Ossiannilsson
Speakers: Torunn Gjelsvik, Jacques Dang, Anaïs Røed Malbrand, Daniel Burgos, Davor Orlic, Ebba Ossiannilsson