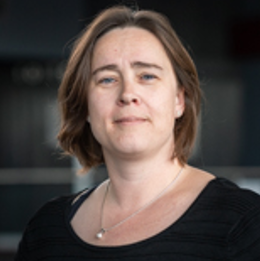 En: Dr Orna Farrell is Assistant Professor specialising in online and blended education in Dublin City University (DCU). Orna holds a PhD in Education from Trinity College Dublin.
Currently, Orna is Head of the Open Education Unit at Dublin City University, which provides online programmes to off campus students through the DCU Connected platform. From 2020-21, Orna led the Digital Learning Design Unit, created to support DCU's pivot to hybrid learning due to the Covid-19 pandemic. From 2017-20, she was Chair of the DCU Connected Online Humanities programmes.
Working within DCU's National Institute for Digital Learning. Orna's research interests include online pedagogy, online student success and engagement, eportfolio and open educational practice. She has a growing publication record in her fields of interest, including a range of book chapters, journal articles, invited presentations and conference papers. She has published in high ranking journals such as Distance Education, the Journal of Interactive Media in Education, Research in Learning Technology, and the International Journal of Educational Technology in Higher Education. Dr Farrell is an editor of the of open access online journal The Irish Journal of Technology Enhanced Learning.
 In the Irish context, Dr Farrell was principal investigator of the recent National Forum for the Enhancement of Teaching and Learning in Higher Education funded project #Openteach: professional development for open online educators. Previously Orna was a member of both the Y1 Feedback and Student Success Toolbox projects also funded by the Irish National Forum.
Orna is involved in two EU funded projects currently. Firstly, she is the DCU Principal Investigator for the Encore+ European Network for Catalysing Open Resources in Education Project, which aims to create a European network that supports innovation and entrepreneurship with Open Educational Resources (OERs) and involves a partnership with: The International Council for Open and Distance Education, Baden-Wuerttemberg Cooperative State University, The Open University, International University of La Rioja, Fondazione Politecnico di Milano.
Secondly, Orna is a member of the DCU team for the BUKA: Better Universities and Knowledge for All – Advancing equity and access to higher education through open and distance learning. This project aims to enable increased access to higher education for people in rural and remote regions as well as those with diverse in Malaysia, the Philippines and Indonesia.
Dr Farrell is involved in a number of Irish and European networks in the area of digital, online and open education. She is an active member of the NIDL digital learning network. Orna is a founding member of Eportfolio Ireland, a professional learning network of eportfolio practitioners and researchers. She is deputy chair of the European Distance and E-Learning (EDEN) Network of Academics and Professionals (NAP) committee.
Evenimente