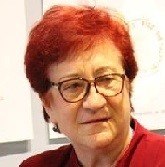 Elena Helerea is a PhD professor, full professor until 2017 and currently an associate professor at the Transilvania University of Brașov, Faculty of Electrical Engineering and Computer Science, Department of Electrical Engineering and Applied Physics.
His professional career had an ascending trajectory: first professor of engineering at the School Group of Chemistry in Făgăraş (1970-1976), then design engineer at the Chemical Plant of Făgăraş (1976-1977), and then to dedicate himself to university activities of education and research at the Transilvania University of Brasov (since 1977).
In education, he promoted the new teaching-learning methods, applying them both in the taught subjects: Electrical Engineering, Electrical Engineering Materials, Energy Quality, History of Electrical Engineering, Professional Communication, and as Director of the Technical University College (1995 - 1997) , by Vice-Rector with didactic activity (2004-2008) or by Director of the University Library (2008-2012).
His main research areas are: materials for electrical engineering, energy quality, energy efficiency, reliability and electromagnetic compatibility, education, history of technology. He is a doctoral coordinator at the Interdisciplinary Doctoral School of the Transilvania University of Brașov. Some of the research results have been published in over 250 papers in international journals, international conference papers and in books.
He is a senior member of IEEE, former member of the Executive Committee of the IEEE Romania Section, active member of ACER, AGIR, CRIFST, ICOHTEC.
As coordinator of the Affinity Group "Women in Engineering" within the Romanian Section IEEE, organized activities (mentoring, workshops, online events) to stimulate women's access to Science, Technology, Engineering and Mathematics.
Events